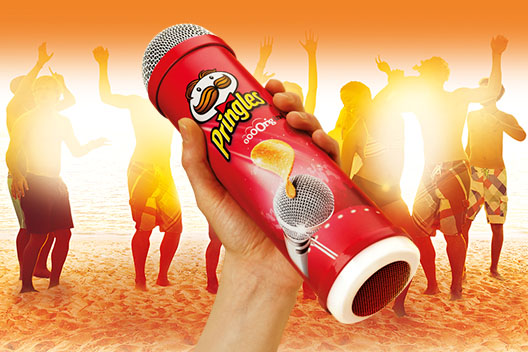 The video, which was created by Isobar, shows groups of unsuspecting friends singing along to Happy by Pharrell Williams, believing they are own their own in a karaoke booth.
But during the song, the walls of the karaoke booth open, they see a crowd of 500 people cheering and holding their names on signs.
The video, which was posted on Pringles' YouTube page, is part of a pan-European campaign that includes mobile and social media activity.
Nick Bailey, the executive creative director and chief executive at Isobar UK, said: 'This brand is all about having fun with your mates, so it's been brilliant to help steward this lovely simple idea into reality."
As part of the campaign, consumers can claim a karaoke kit which includes a microphone and speaker that attaches to the snack box.
Claire Heskin, the digital marketing manager at Kellogg's, said: "With our summer karaoke kit promotion, Pringles is giving everyone an open invitation to play.
"The Karaoke Prank video created by Isobar has taken this idea and brought Pringles' playful side to life in a totally unique and hilarious way.'
This article was first published on www.campaignlive.co.uk