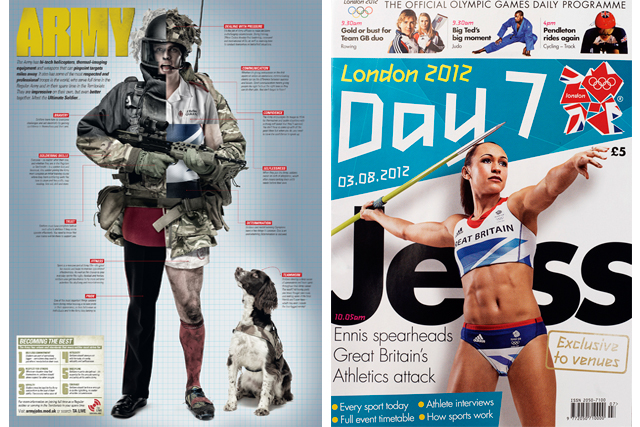 On 23 September 1987, Margaret Thatcher told Woman's Own: "There is no such thing as society. There is a living tapestry of men and women and people and the beauty of that tapestry… will depend upon how much each of us is prepared to take responsibility for ourselves." That the then-prime minister chose to give this historic interview to a weekly magazine for aspirational, middle-class, middle-aged women says much about the commu­nity Thatcher understood herself to be a part of.
Sixteen years earlier, the editors of youth culture magazine Oz, Felix Dennis, Richard Neville and Jim Anderson, were prosecuted and imprisoned for "conspiracy to corrupt public morals". The trial became a notorious public clash between the estab­lishment and the rights of a magazine to represent the interests of its readers, even if those interests were what the charges described as the "sexually perverted cartoons and articles" in the "School Kids Issue" of Oz. Following protests from John Lennon and others, the convictions were quashed on appeal.
Fast forward to 2007, and the Fair Trade for British Farmers Campaign turned to Farmers Guardian and Country Living to raise awareness of pricing issues crippling the industry. Using the slogan "No cows, no countryside", the magazines launched a campaign with a petition that attracted 42,000 signatures, forced an Early Day Motion in Parliament, spurred supermarkets to improve price initiatives for farmers and paved the way for a supermarket ombudsman.
These diverse examples of publications serving communities are drawn from "100 Great Magazine Moments", part of the PPA's celebration of its cent­enary; what PPA chief executive Barry McIlheney called: "The unbeatable spirit that runs through magazine publishing and the amazing group of characters who make this industry what it is."
This is what our business is all about. We are the smartest members of the communities we represent; we are helpful, insightful, inspirational storytellers and have done this job superbly through print for more than 100 years. Talk of a civil war between "print" and "digital", concentrating on the delivery rather than creation of content, distracts from the laser-like focus on serving communities of interest that has characterised the best magazine publishing.
The simple, more thrilling reality is that we now have a multiplicity of channels through which to talk to our communities and print has become one of them. Social media, for example, is precisely the voice and tone of a community that magazine people intuitive­ly understand. Forget the obsession with numbers and millions of followers; it's tight little communities of people sharing their passion for, say, Skipper butterflies. These are the kinds of communities we can serve brilliantly.
The power of relatively small but engaged com­munities is well-illustrated by the example of Spikes. Originally a print magazine for global athletics, it is now a hugely tonal mixed-media community oper­ating a website and Tumblr blog, as well as Twitter, Facebook, Instagram, YouTube and Vine channels. Followed by track and field stars, its reach is disprop­ortionately greater than its direct numbers (7000 Twitter followers are followed by 10.4m people).
When Wilson Kipsang broke the marathon world record in Berlin last September, 215 people on Twitter and 876 people on Facebook shared links to the story on Spikes, compared with 41 and 620 for The Guardian, 31 and 330 for the Telegraph, 154 Facebook shares for CNN, 175 for Athletics Weekly and 231 for the Mail Online. In other words, Spikes' coverage outperformed other media brands with significantly greater followings in social media.
The message is clear. In the same way as Thatcher chose a women's weekly magazine to pitch her agenda rather than a bigger TV audience, or farmers turned to Farmers Guardian and Country Living rather than the national press for their cam­paign, the key is the disproportionate influence these smaller but engaged communities can wield.
What has served us so well must continue to be the bedrock of the business in a world where a multitude of outputs is possible. The challenge, as Lisa Smosarski, editor of Stylist, acknowledges, is that "the linear process of editing remains the same. You still have to come up with the ideas but a lot, lot faster, and the room to manoeuvre, the time to experiment, has gone". It is a question of adapting and acquiring new people and skills while continu­ing to serve our communities and supply content via whichever channels they wish to receive it.
The Felix Dennis who was banged up in 1971 went on to become one of the great leaders of magazine publishing. In 2008, surveying the state of the ind­ustry for Columbia University's Delacorte Lecture, he implored his audience (and all of us by proxy) to remain consistent to the mantra "The reader is king. Never forget it. Never compromise… Always pause to consider: what is it my reader needs? What is it my reader wants? What will get readers buying this magazine or visiting this site over and over again?"
---
Case study

People Management: feeling the love
At the CIPD's annual conference and exhibition last November in Manchester, HR delegates queued round the block at stand 491 to get their pictures taken for personalised covers of People Manage­ment magazine. In the space of two days, 271 covers for the "new stars of HR" were printed and packed into delegates' branded bags and duly posted by the happy recipients on Twitter.
"Love my magazine photo," tweeted Amelia Ringer; "The recognition I've been craving," said Phil Willcox; "We love People Management's cover star idea," said the good folk at ILM Inspire. Doug Shaw went even further and built a "rogues' gallery" on Tumblr.
People Management is the official magazine of the CIPD, the professional body for HR and people development. With a monthly circulation of 134,000, it is by far the biggest HR magazine in the country and 18 months ago transferred into the care of Haymarket Network.
In concert with the CIPD, we reinvented the brand as an approachable magazine for its core constituency of HR managers (predominantly female), driving debate in the community and hosting that debate online and in social media. We took visual cues from women's magazines and mass-market publications, but kept the content as relevant as ever, with harder-hitting features tackling HR-related business issues and social concerns as well as the more sensational day-to-day manage­ment issues like bias, bullying and diversity in the workplace.
In every measurable sense, the community's response to these changes has been phenomenal. Since August 2012 ad decline has been halted, display revenues and online recruitment are significantly up, subscriptions to its online Daily Bulletin are up 80% to 137,105; LinkedIn group members have grown by 178% to 23,024; Twitter followers are up 84% to 32,364; Facebook is up 30% to 4974; website visits are up 30%, unique visitors 10% and page views 22%, all year on year.