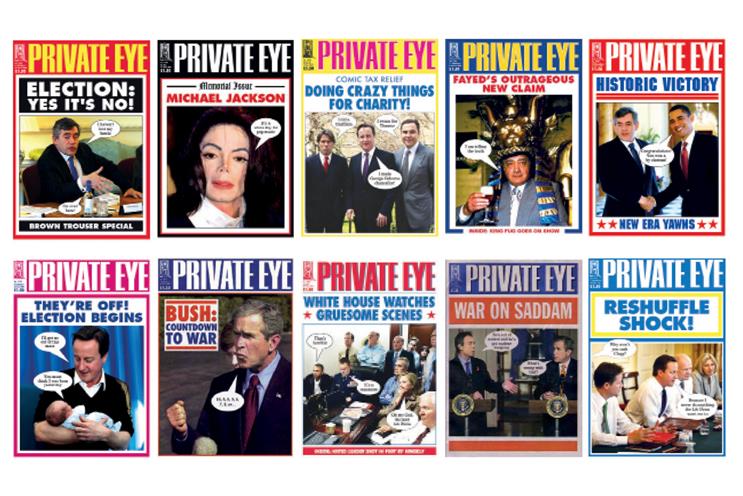 Private Eye is a singular publication. The magazine has gone out of its way to ignore the changes that the internet has brought to the rest of the industry – yet it is thriving.
The narrative around print at the moment is that while nothing can stop its decline, magazines and newspapers will not shrink as quickly as people predicted when the web began eroding the traditional model.
Still, Private Eye's mix of investigative journalism and satire is attracting more readers as similar news and current affairs publications content themselves with little or even no growth. According to ABC figures, Private Eye enjoyed a 5 per cent increase in its circulation in 2015 to 228,264 – its best figure in nearly 30 years.
So what of Private Eye's pull for advertisers? The magazine claims its readership is 86 per cent ABC1s and Geoff Elwell, its finance director, says the title attracts the same advertisers as other current affairs magazines such as The Week and The Spectator.
But Andy Hargreaves, the head of display investment at OMD UK, believes it's more nuanced than that.
"It doesn't have the same profile," he says. "If you look at Nielsen figures, The Spectator takes about £2 million advertising [a year] and Private Eye about £350,000. If you look at Private Eye over the course of a year, it will feature maybe 55 or 60 different advertisers; whereas others in the sector will have a list about three or four times that size."
But Hargreaves concedes that the readership is "really strong": "Private Eye has an ABC1 profile akin to The Guardian or The Times. It's the type of content that appeals to the educated middle class."
He adds that Private Eye's often hostile editorial means the brands taking out ads tend to be braver: "The very confident brands will use them, like BMW or high-end funds – brands that completely understand that the people reading this product are the ones that buy their product."
Sheila Molnar, Private Eye's managing director who has been with the company since 1976, dismisses any claims of trepidation from brands, adding: "People turn to Private Eye because it's such a trusted brand."
It is true that there is much less advertising in Private Eye than in comparable publications. It only runs ads on the front and the back – never in the middle – and Molnar says brands clamour for what little space there is. The lack of FMCG advertising is most likely explained by the older, male-skewed readership.
Molnar says brands are often incredulous when presented with Private Eye's sales and readership information. But the bigger shock is how engaged its readers are with the publication – even the ads.
People are always writing in to give their verdict on an ad or to admonish Private Eye for accepting ads from certain brands, Molnar explains.
This level of engagement would explain why so many people continue to put their faith – not to mention money, at £2.50 a word – in the classifieds section, which appears to remain strong despite competition from Gumtree and similar sites.
Indeed, Molnar says she was recently contacted by journalists wanting to tell the story of Private Eye's often-bizarre classifieds section.
And that's the enduring appeal for advertisers: Private Eye is one of the few publications that people read cover to cover – including the ads.