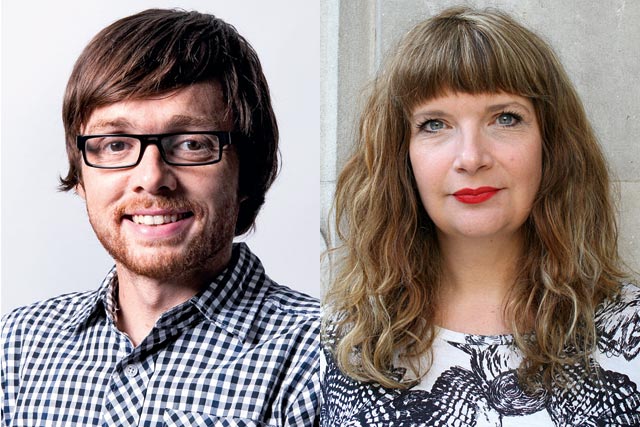 Gareth James, executive creative director, TMW

Nicky Bullard, creative director, Lida

Hot(ish) on the heels of The Mighty Boosh, The Range has gone for surreal comedy to land the idea that there's not much it doesn't sell and what it doesn't sell is not worth buying. This breed of humour (a fake product called a hedge suit, in this instance) should, in all honesty, be banned from being used to advertise mid-price home, leisure and garden products. The all-too-crammed 30-second ad makes no sense and left me wondering what they were on about. Hedge suits? Pigeons? Next…

OK, scratch that – maybe a bit of surrealism is allowed. Enter the slightly mind-bending concept of a car that turns heads and runs on Batchelors Super Noodles. Filling your car up with Super Noodles would, indeed, be a truly great thing – a sort of Back To The Future Part II for students. Aside from the rather odd leap from noodles to free petrol, I think this ad escapes the surreal comedy ban because it's more understated and deadpan and a fair bit less annoying. As usual, the Ts&Cs spoil things – a slightly creepy man noodling on at 88.8 miles per hour for half the ad is an unfortunate ending.

I love the tone of voice in the Ikea ad – the nice, quirky Nordic accent always seems to have permission to interrupt my day. This time, the friendly Ikea man explains how Princess Xenia Gabriela Florence Sophie Iris of Saxony's sleeping woes can easily be solved with a visit to the store or website to consult its mattress guide. With so many ads shouting and screaming at me, this one, with its happy, clear and friendly tone, makes a welcome change.

Conversely, if ever there was a case for someone deliberately playing out the plot for the movie Home Alone, then this ad for BAA/Heathrow Airport car parks is it. It sets up the scenario that it's better to drive yourself to the airport than get a taxi. Enter a pretty loathsome family who really sound like they need a holiday, but their taxi hasn't turned up to take them to the airport. Frankly, if I was sharing a flight with them, I'd be glad they never left the house.

Having supported Calm (Campaign Against Living Miserably) in the past, I have a lot of respect for the work it does helping prevent suicide among young men. This ad cleverly makes its message relevant to a difficult-to-reach audience. Using Facebook-style status messages, it explains that some thoughts – the ones you may not want to share – should be shared and that Calm is there with a friendly ear. Its serious message does strike a chord, though it would benefit from being a bit more blunt as it left me wondering: should someone call if they are just having a bad day or when they have a longer bout of negative feelings?

Men. The barely tolerable, large children that we are were put on this modern earth to be bashed by advertising targeted at women. The Elastoplast offering proves this. The ad follows a set of layabout blokes unable to carry out simple DIY tasks without the help of an Elastoplast. There seems to be no irony lost in the fact that the world in this ad, at least, follows these rules: 1) Men do DIY. 2) They are useless at it. 3) Women buy plasters. Hence, the ad becomes pretty patronising from both sides of the gender fence. So, my grim view of this is more than personal pride – I think I'm quite good at DIY (but, then, I guess I would). Pass me an ego-Elastoplast, please.

I woke up this morning covered in pea. As I have just demonstrated, writing funny is hard to pull off. And as I have just heard, apparently more so in radio. Four of these six ads have attempted to make me laugh. And failed. However, the two that didn't try to be the Jimmy Tarbucks of the airwaves have told me something I didn't know. Which can only be good. Anyway, back to being covered in pea this morning…

I am a bit of a princess myself so I know all about how hard it is to get a good night's sleep. Ikea has enrolled a real-life royal (genius) to prove its mattress know-how. The Swedish voiceover instantly gets my attention and there's that certain Ikea charm to the script. I'm off to Croydon's blue towers.

BAA/Heathrow Airport. Next up is a sorry family from Middle England waiting for a cab to Heathrow. It hasn't turned up. They try to get the youngest kid to cry so another taxi will stop, kick out its current passengers and take them instead. Good plan, Dad. Oh, and one of the brats has mistaken a taxi for a milk float. And the sun.

The female voiceover then says you'd be better off driving and parking in one of Heathrow's car parks, promising "they cost less than you think when you book in advance". Well, thanks, lady, but now I'm thinking that they will cost a bundle and will stick to AAAA Executive Cars round the corner, ta.

Just as I am feeling the urge to punch someone, I listen to the ad from Calm (Campaign Against Living Miserably). Well-constructed, it tells me that although some blokes might share loads of stuff with their mates, they probably don't share the heavy stuff. Calm is a helpline for young men, it's free and it's anonymous. My only quibble is that if the ad is focusing on how young guys use social media, isn't that where Calm should be spending its media budget?

So, on to Elastoplast. Unlike the handy Ikea mattress guide, Elastoplast is talking me through the DIY excuses guide that I've been waiting for all my life. Apparently, if you ever hear an excuse for not doing DIY in the garden like "the scratches haven't healed from last week's battle with the roses", you can tell them all about Elastoplast Extra Tough and they'll pop one on and get cracking.

Batchelors is giving us a chance to win free fuel for a year if we pick up a lucky pack in-store. What store? The Batchelors store? OK, I'm being a tad pernickety here. The main body of the script is two men discussing a new car. Turns out the owner's been sticking Super Noodles in the fuel tank. And pasta sauce. "Batchelors. Fuelling Britain. It's the tasty way to fill up." Geddit? It's OK. Feels like it's trying a bit hard, though.

And finally. Oh, finally. The Range. Apparently, this is a home, leisure and garden superstore that has 65,000 different items on its shelves. And if it doesn't have it, you won't need it. OK, so has it got a dialysis machine? Anyway, it decided to dramatise something that it doesn't stock (as I've never heard of The Range, that's not useful, but, hey, let's go with it). Yep, using the hilarious spoof ad technique, most of the script centres on the hedge suit. We hear about how, wearing it, you can sneak up on pigeons, have a chat with Mother Nature and even spy on your neighbours. Someone pass me that Calm number, please.
BAA/Heathrow Airport 'is that our taxi' by Masius
Brief: Promote the parking services at Heathrow Airport, which will be integral for use by families over the Easter holiday
Agency: Masius
Creative team: Surrey Garland, Frank Hersey
Producer: Jacky Bateman
Sound studio: Wise Buddah
Engineer: Gurdeep Singh
Campaign exposure: Radio
Elastoplast 'guide to DIY excuses' by DraftFCB
Brief: Promote Elastoplast's new Extra Tough range of extra-sticky, waterproof fabric plasters
Agency: DraftFCB
Creative team: Cate Anderson, Carley Jackson
Producer: Chris Eeles
Sound studio: Angell Sound
Engineer: Patrick Rowland
Campaign exposure: Radio
Batchelors 'neighbours' by Dare
Brief: Promote Win Free Fuel promotion on packs of Batchelors Super Noodles
Agency: Dare
Creative team: Sean Vrabel, Stuart Woodall
Producer: Barnie Stewart
Sound studio: Unit
Engineer: Chris Southwell
Campaign exposure: Radio
Calm 'status' by Global Radio Creative
Brief: Promote the helpline of this suicide-prevention charity to young men in London
Agency: Global Radio Creative
Creative team: Steve Huthwaite, Dominic Youdan
Producer: Justin Sanders
Sound studio: Global Radio Creative
Engineer: Justin Sanders
Campaign exposure: Choice FM
The Range 'hedge suit' by VCCP
Brief: Promote the wide range of products The Range sells
Agency: VCCP
Creative team: Charlie Hurst, Eddie Fisher
Producer: Holly Abey
Sound studio: 750mph
Engineer: Phil Bolland
Campaign exposure: Radio, TV, outdoor, digital
Ikea 'princess Xenia' by Mother
Brief: Challenge perceptions of Ikea's mattress offer – in particular, in terms of quality and expertise – to continue to drive perceptions of Ikea as leader in life at home
Agency: Mother
Creative team: Mother
Producer: Mother
Sound studio: Factory Studios
Engineer: Dan Beckwith
Campaign exposure: UK and Ireland radio
Click here to view the Private Hear archive
Add to Private Hear showcase