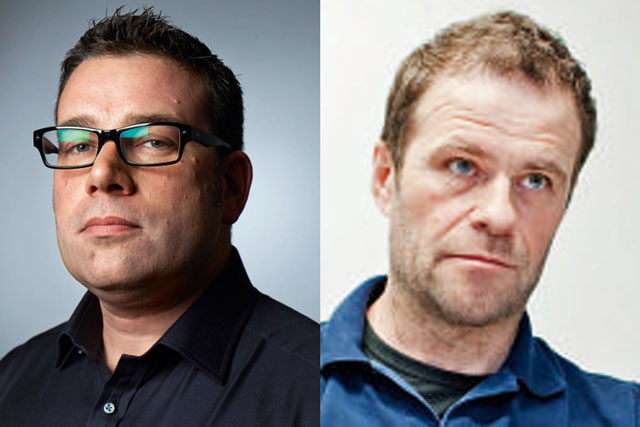 Beri Cheetham, executive creative director, Arc
Trevor Chambers, group creative director, Cubo

Funny how six radio ads totalling just 210 seconds can consume a couple of hours of your time. Truth is, great radio should keep you preoccupied for hours and change your behaviour too – provided it's clear, cogent and uses the medium creatively.

To start with, I've opted for the least visual – radio's answer to a product-recall print ad for Tesco. Straightforward enough, it craftily apologises on behalf of the whole industry before taking it on the nose. It's brave to 'fess up and call for change, but it does leave you questioning why it takes a scandal for Tesco to source British meat in the first place and wondering if you can wait until July to buy your chicken there.

If the Tesco ad is the most visually bereft, then the Department for Transport ad is surely the most filmic. "You didn't see him…" is emotive and powerful with a simple message. It's not the only spot that jolts listeners with car-crash effects and I hope it saves lives, but the creative opportunity may be in media outside radio for it to truly resonate.

The "don't risk it" brief should inspire writing as moving as the DfT ad, but Road Safety Scotland's use of the nearly man of Formula One, David Coulthard, feels gimmicky. First, it doesn't take Nostradamus to predict the outcome of the ad, punctuated with obligatory car-crash effects. Second, why Coulthard? Does anyone really imagine themselves driving like the man forever in Michael Schumacher's dust? To the boy-racers this is aimed at, wouldn't a Jenson Button or a Lewis Hamilton be more relevant than a pundit who finished second in the championship in 2001?

"Fly Virgin Trains" is a simple analogy and, as a fan of its service (in first class, naturally), I can vouch for its speed and punctuality. Tourette's-like vitriol is violently spewed from my mouth whenever I encounter traffic, so fantasies of flying rather than driving I can empathise with. The airline idea and brand equity conjured from Virgin Atlantic rub off on Virgin Trains. Which is okay by me.

Uh-oh. Listening to the National Citizen Service ad feels a bit like a teenager watching their dad doing a Travolta at a wedding reception. Not sure whether this speaks to the audience or makes them cringe. Feels a little patronising with a whiff of Christian rock about it. It all stops with a "no", if you ask me.

Last, the ADT spot employs the familiar technique of using the same voiceover to narrate both sides of the character's mind. It's not a bad concept. The trouble is, the execution dedicates just 15 seconds of the 40 to the creative idea, so the drama feels very hurried and more sinister than a burglary.

So. All the ads in this month's selection are clear. I might be more vigilant at junctions. I'll still fly on Virgin Trains. And I'm delighted I shop in Waitrose. But none of them will distract me for too long.

Fear is every creative's work partner.

Fear of ideas block, of mediocrity, of clients meddling.

Fear of a blunt audience, of a budget that means someone's uncle will be composing the soundtrack on his Casio keyboard.

And fear is the theme for this selection of radio ads.

First, Tesco tries to abate the fear we might be unknowingly munching on the leg of an old Grand National winner minced into a 99p ready meal. "Hello, we're Tesco." (Good start: nice and honest.) Then the admission that the UK's whole food industry has had "a wake-up call" (been found out). Action taken? "All our meat will be from UK suppliers by July." There's little I can say about the creative idea here – there isn't one. As it should be, this is more of a public announcement. The tone is right, but it says very little, so left me unconvinced.

As a cyclist, the Department for Transport's bike awareness ad hit home – and will put the fear into drivers. A rich Scottish tone adds poetic delivery: "You didn't see the doctors fighting to keep him alive. You didn't see his wife's face as they turned off his life-support machine." Beautifully crafted – the rhythm and pauses are perfect. It will save lives.

In Road Safety Scotland's speed-killing ad, the approach is different. It starts by trying to make you feel like a racing driver, like David Coulthard – and then delivers the fear at the end when you hit a tree and die, like Kenny Dixon. It's solid and does the job, much like Coulthard himself. But it doesn't fire up the emotions. "Don't risk it" is the endline. And they didn't.

The National Citizen Service ad's only fear seems to be the fear of reality. This ad smacks of a senior team trying to write for a youth audience, baseball caps turned round. It opens: "Yes, it's a struggle when you're young – when

you're trying to figure it all out." Really? And, sorry – the line "You are not a clone" is just awful. I played this to my 18-year-old daughter, who a) laughed, and b) didn't get what the NCS was offering. I'm now imagining the agency smashing the door down with a bunch of data and Facebook "likes" proving otherwise. If that's the case, I'll get my coat.

ADT's ad depicts a woman coming home, fearing her house has been burgled again. There's no big idea, but the delivery of her inner voices overlapping in a head-versus-heart recreation of emotion and anxiety works nicely. It starts a little fast so the opening might get lost – but an office poll came out very positive.

Last, Virgin Trains presents a warm, charming ad. "What is the fastest way from A to B," it opens. "As the crows fly." The voice artist selection is good and it pitches itself at the heartland, 50-plus audience. But I wish it helped move the Virgin Trains brand forward. I fear this is just the age-old message – the train is faster than the car. Is there no more to the brand?

Click here to view the Private Hear archive
Add to Private Hear showcase