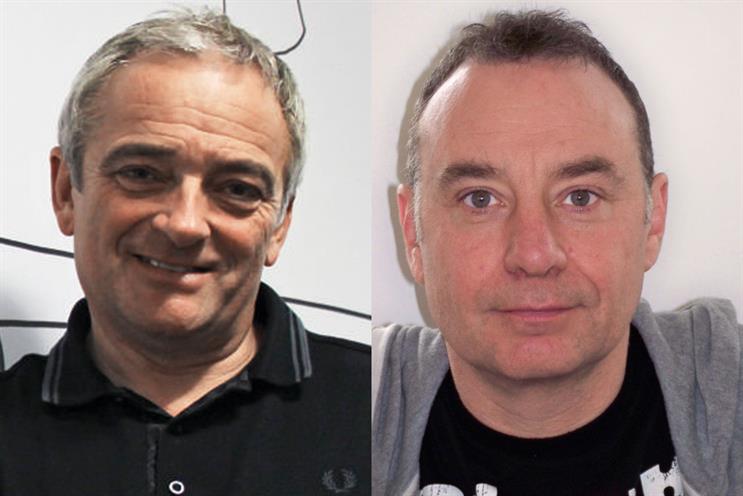 Graham Kerr chairman and executive creative director, MBA

Paul Domenet founding partner and executive creative director, Johnny Fearless

Scotland v Brazil. The best radio ad I've ever heard. It went something like "We're doomed. We're doomed. We're doomed. Oh God, we're doomed" (for 25 seconds), followed by: "Watch Scotland play Brazil tonight, 7.45, STV." Brilliant! Difficult to beat – the ad that is, not Scotland, sadly. So how do this month's Campaign Private Hear column contenders fare?

First up, it's team Bluewater. It's a bit route one. Let's chuck it all up front and hope for the best. I feel like I've seen this style of play before and, instead of leaving you feeling all warm inside with its soft rhyming voiceover, it's in danger of leaving you feeling you've been left out in the cold. There are lots of messages being tossed out and I'm not sure many of them hit the target.

Continuing with my footy analogy is the Christmas ad for

ChurchAds.Net that, coincidentally, spoofs classic football commentary. Admittedly, it's well-written and well-executed, but it doesn't really convert. It fails to wrap the idea up in something that the listener can get their head around. In other words, what does football have to do with Christmas? Don't be afraid to tell me. The call to action comes from left field. It's close, but no goal celebration. Good attempt, though. Next time, it just needs to be more clinical with its finishing.

I'm a fan of "trailerman", the radio ad for Sky's Now TV. It's direct, it uses the medium well to demonstrate a point and it keeps its eye on the ball throughout. And, using the man of the moment Chris O'Dowd's voice for extra comedic warmth, this one definitely rattles the back of the net. It also marries up well with the current running TV ad. So it's a good all-round campaign. Cue applause from the grandstand.

The Gillette ad for Movember also has my full support. Good cause. Really good ad. Nice play off the dynamic duo that is Armstrong and Miller. It's a well-written, well-executed and stylish ad that puts a hole in the net. I'm sure a few tashes will raise a smile at this one, too.

Next out of the tunnel is the Nando's "alternative" ad – part of the "find yourself" campaign. I feel my teenage son might be

better-positioned to comment on this one. It's playful and it kicks around with its proposition "to be different" in a quirky way. Mango and lime peri-peri won't be to everyone's taste, but at least this ad and its strategy know that. Good team effort, Nando's.

Last up is the audio book spot for The Guardian. It's a charming little ad with a nice performance and a simple idea. I'm sure it will resonate with parents who have, at one stage or another, tried to act out a children's book to their little ones. With this insight and the slight tongue-in-cheek execution, it deserves to score highly.

Overall, the state of play as demonstrated by this month's selection of radio work is pretty good. But it must be said that a lot of radio ads out there forget the basics these days. In today's digital world, it's well worth being aware that there are more pitches to show off your skills in places such as Spotify.

And, of course, it goes without saying that the more we shoot, then the more we'll score. Unless you're a £50 million striker from Spain playing at the Bridge. But don't get me started on that – I've only been given a 600-word limit…

Radio's my favourite medium – budget no issue, words rule, no-one interferes, consumers forced to use their imaginations, theatre of the mind etc, etc. And it's nearly the season of goodwill. So I'm going to try to be positive.

But "He-who-is-about-to-have-a-birthday" knows it's going to be hard.

The people who wrote the Nando's ad must take credit for realising it said "radio" at the top of the brief. (So many people seem to think a radio commercial is just a press ad read out.) Hence it starts "Well, this is awkward. Just us two", which draws you in nicely. There are some interesting phrases – "drum 'n' yodel", "cape-wearing flavour hero" – tossed in to retain interest and, although the link to the product is a tad forced, it has got a nicely sideways feel.

The team who wrote the Sky Now TV "trailerman" script also acknowledged what medium they were in and parodied the

cinema-blockbuster-below-the-earth's-crust-bass voiceover oft heard on the airwaves (as, admittedly, many have done before them). However, the idea gave up after ten seconds and went home to leave the last 30 seconds at the mercy of the blah-blah monster.

By the end of the commercial, the point of it had receded so far into the distance as to not be visible. If a voiceover can be visible.

Gillette piggybacked Armstrong and Miller (whose shoulders might be getting a little sore now) in its "panache" gangsta radio spot. I've always liked the characters and, while I would always advocate people having their own ideas, the ad is well-crafted, pings about verbally and bears repeat listening.

The Guardian's print ads are always very distinctive, elegantly phrased and intelligently observed, and I really wanted to think the same of its radio ad. I really wanted to.

If a star were to appear in the east this Christmas, it would probably hover over the A2/M2 at Bluewater drawing humanity from all around. For its festive offering, I was expecting more white stilettos than white Christmas, but it was rather quaintly old-fashioned, as it turns out. Make the words rhyme in a skipping, childlike fashion and put a

semi-modernised seasonal tune behind it (which, unfortunately, runs out before the end as if they hadn't put enough money in the meter).

Finally (and fittingly) to ChurchAds.Net. I applaud the Christian "client" among the selection for coming up with the most insane spot: a football commentary where all the players are aspects of the Christmas story. I'm not even going to ask why. An immaculate conception would make more sense.

I also have no idea whether this would make anyone visit Christmasstarts.com. I presume that it is attempting to frame the nativity narrative in a football style, hoping that the comparison will force an appreciation of the more profound significance of this time of year. Or maybe not. Either way, you can't ignore it, which is the first rule of any ad, radio or otherwise.

The script (or should that be scripture?) is well-written and "Jesus on for Mankind – Mankind really sagging in the first half" will forever be one of the most bizarre lines I have heard in a radio ad. I'm not sure it will make me believe, but I will still believe in radio.
Click here to view the Private Hear archive
Add to Private Hear showcase