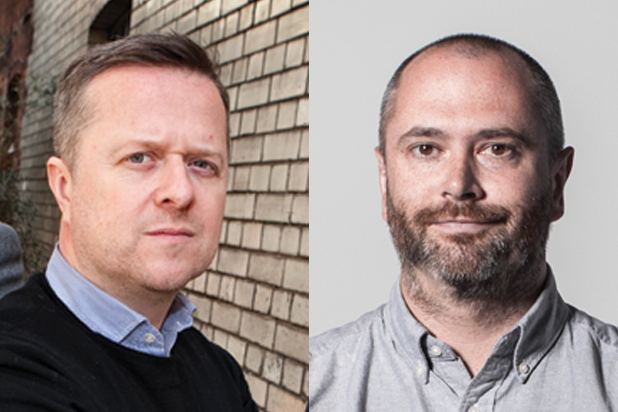 Mick Mahoney,

executive creative director, Rainey Kelly Campbell Roalfe/Y&R

Sam Walker,

executive creative director, Karmarama

A great radio ad is a model of single-mindedness, of restraint. It isn't then followed by its own body weight in legals. (Whose idea was it to add bloody legals? No-one listens to them. They are both baffling and infuriating. They stifle an utterly brilliant medium. Was the world such a terrifying and lawless place before they arrived to save us?) It also isn't 20 or 30 seconds of tortured am-dram performances followed by a rushed, sweaty explanation of why you have just been subjected to said performances. So, with that in mind, let's press play.

Spark Squad Electricians. A Mid-Surrey Amateur Players' reworking of a Philip Marlowe classic. "It was late, the lights had gone out downtown and no-one knew the hell why…" The squad (SFX: police siren) "got to work". Then they, er, fixed the lights. Curtain down. The end. Awkward applause. Not much in the way of dramatic tension. But at least I'm clear what Spark Squad does.

Which?. A delusional builder melodramatically lists the reasons for his belief that he is the world's best builder. John Hannah, radio's go-to Mr Trustworthy, then explains at length why we should be interested. Unfortunately, there was so much crammed into the explanation that you lost me, John.

Microsoft. The office clown. You know the guy who renames the server after a famous rap artist and answers the phone in a range of hilarious accents? This ad is the pick of the bunch. Smartly observed, well-written, well-cast. Tight, intelligent explanation of the product built into the narrative and only a hint of legals.

Nando's. To be fair, by the above criteria, this should be a decent spot. But it isn't. So I'd like to add something to the list. A great radio ad is either funny, surprising or interesting. That dated, odd-casting-for-the-sake-of-it thing isn't any of these.

Suzuki. I met the bloke that does the voice of Siri in a pub. He wasn't how I imagined he would be. Go on to the maps app on your iPhone and get him to say "Chertsey Road". Kills it. Anyway, in this spot, the idea is that Suzuki has created the first voice-activated radio ad. It isn't, of course, but it is an attempt to have fun with the medium. Not my cup of tea and a bit too much explaining, but fair play nonetheless.

Churchads.net. This is my guess at what I've just listened to: a spoof Jeremy Kyle lambasts the Bethlehem innkeeper who turned away Joseph and Mary for his callousness. The crowd hurls righteous abuse. The innkeeper tries to justify his actions by declaring that he runs a business, not a charity. Then a soothing voice tells us that Christmas starts with Christ and that we should visit ChristmasStarts.com or our local church. Answers on a postcard, please.

One thing you learn quite quickly about radio ads is that they're actually quite difficult to make good. All you've got is some sound and, if you're lucky, a bit of writing ability to go with it. And if you haven't got that, then you're a bit screwed.

Spark Squad Electricians. Not sure what to say about this, really.

A more commendable effort for Which? features a builder waxing lyrical about his prowess. There is a nice line about being able "to put in a loft conversion in your basement" – which, incidentally, if there are any builders reading, would actually be a good headline for a trade ad.

Suzuki pushes the "world's first voice-activated radio ad". A simple idea that felt like it could do with a punchline.

Radio advertising's Posh Voiceover Man features for Microsoft. Reasonable script, but it always baffles me why creatives think it's funny to have an uber-plummy voiceover guy. If he is irritating in real life, there is a good chance he will be irritating when you have to hear him every 15 minutes on the radio.

Nando's is, to my mind, the best of the bunch. Nice casting and the performance made it. Nothing radical about the construct, but gently funny, which is halfway there.

Finally, an awesome ad – and probably one of the most misjudged that I've heard. Churchads.net is trying, I assume, to make people reappraise the Church to see it as relevant in today's Britain. It features a Jeremy Kyle-esque show in which a Middle Eastern innkeeper (extraordinary accent) is berated by a shepherd (West Country accent, naturally) and baying (UK) audience for not letting Mary, Joseph and baby Jesus stay.

I had to listen to this one lots of times just to check I wasn't going mad or had suddenly lost my ability to tell when something has "unfortunate racial overtones" (my lawyers have advised me to say that).

Definitely "unfortunate racial overtones". It could easily be repurposed for UKIP, or the Tory Party's campaign urging illegal immigrants to leave the country.

What this ad communicates is that the Church is totally out of tune with cultural sensitivities and cements what a large section of society already think. Actually, having said that, I'm pretty sure Daily Mail readers would love this for talking a bit of sense about those bloody foreigners…

A bit of harmless fun? Clearly the writers weren't actually trying to be offensive and I'm sure they simply thought: "Wouldn't it be funny if the biblical shepherds were actually from the West Country as all shepherds are?" Which, of course, it might have been, if it wasn't an ad for the Church.

Who would have thought, when asked to review some radio ads, that I would end up talking about the state of the modern Church, UKIP, the Tory Party and the Daily Mail? Awesome.

Click here to view the Private Hear archive
Add to Private Hear showcase