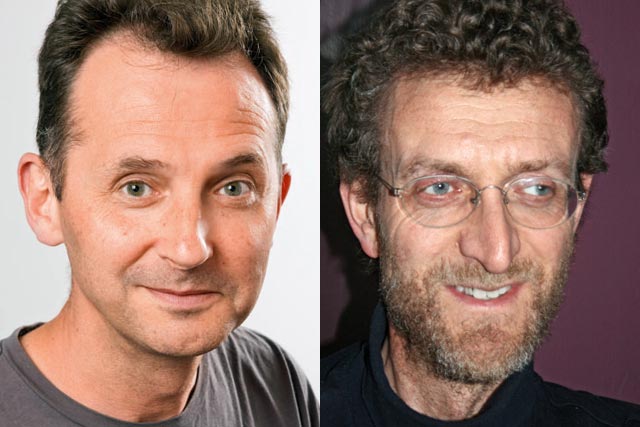 Will Awdry, creative parner, Ogilvy & Mather

Brian Jenkins, head of radio, COI

January 2012. A month when some of us feel isolated from dependable friends such as alcohol, say, or Europeans. Do these half-dozen radio oeuvres provide a cup that cheers?

British Gas is scarily reassuring. The voiceover comes over all Butterscotch Geezer Chic and flogs us an insurance policy called HomeCare. This is a warm, fuggy blanket of an ad. Tim Spall manages to get almost two syllables out of the word "gas", like The Fast Show bloke who said "Ja-azzzz". He reassures me so much that I begin to suspect he has abducted some children.

Lloyds TSB is another commercial for our times. It sells reassurance to which we bring our own sense of mounting panic. Julie Walters starts one of those lists so beloved by BT and McDonald's (except, this time, we have late-night clubbers). She has no truck with urgent salesmanship, instead purring that Lloyds is, basically, "open all hours". "A-ha-hi-HOR," the effective operatic score sings, before Julie reels off a phone number that is something-something-three million as though it's a banking salary. Now we can all work out if our antidepressants of choice are affordable at 2am.
Gordon's gin and Schweppes have been mixed in a can. The ad has been mixed in a basin, as an actor pretends to snorkel under a lake. He attempts to drink as he pretends to snorkel. The words "contrived" and "irrelevant" swam into my head. Both brands fall into the category of icons few can emulate. I have been carded to be charitable here. Does this ad do the memorable business? Jesus Schwepped.
In the O2 ad, someone who sounds not unadjacent to George Osborne on speed is offering texts and free minutes and there's a blue whale and it's all slightly breathless until, phew, Sean Bean pours treacly, Northern grout over everything and it's all right again and there's a bit of branding and a rapid disclaimer. Blimey. Suddenly, it's over. The message didn't really stick for me – a bit like Amelia Lily, who came third in December's The X Factor final. Remember her?
Relief finally arrives as a smartly written piece in the shape of Monster.co.uk. This is a satirical peon to every hateful business buzzword there has ever been. Carping slightly, I feel the voice selected then turns the volume down. It loses something. Nothing is forever, but I miss the unhinged brilliance of Ian Holm. Monster at its best is about rebellion – the performance here mutes it to mere commentary. Good, but could have been great.
The Metropolitan Police Service series is also intriguing. These spots are echoes of the multimedia, far-reaching campaign. They invite the listener to question carrying a knife, going on to dramatise bad outcomes further down the break. In my experience, they split audiences. I think they're strong. The last awards jury I attended, the debate quickly became about intrusive, interactive content versus "white men can't write black radio". That might say more about edgy "Krative" competitiveness than it does the campaign. Undoubtedly, this work is the standout advertiser of the bunch.
As Chris Wilkins once wrote: "You can close your eyes but you can't close your ears." In radio, the budget of the imagination is unlimited. On the strength of these hearings (honourable mentions aside), there's still plenty of airtime that could be better spent.
Rather than try to be clever-clever with my Private Hear, I thought that, as one of the main objectives of any ad is to stand out and be memorable, I would listen to all six and then, an hour later, see if I could remember what they were about.
First up was Gordon's gin (and Schweppes Slimline tonic – for Diageo's Premix range). I had no problem remembering this one, but that was more to do with the magic words "gin and tonic" than the creative itself. All I could recall was that it was an attempt at an interesting idea about trying to drink underwater, but it didn't quite come off because the sound design and the voice performance were unconvincing.
Sound needs time to work effectively; rush it and listeners won't follow the idea. One hour after listening to the O2 ad, I had a vague recollection of something a bit rushed and muddled to do with a whale that I didn't follow and I hadn't a clue what it was flogging, and the only way I could remember the brand was because of Sean Bean's voiceover at the end. So at least it wasn't a total failure, but is it really good enough that it was all I could recall?
The next two were also both examples of well-known, distinctive voices being intrinsic to promoting the brand identity.
First, it was Julie Walters, Lloyds TSB and that music. And that's as far as I got. At least I could remember the point of the next ad, for British Gas , which used the song Rescue Me to flog an emergency boiler repair service. I didn't remember much of what Timothy Spall was telling me, but the music did the work. So, good use of music – that's some sort of success. Although Spall highlights the dangers of using well-known voices as part of your branding – if you don't get exclusivity, there's a risk the listener might mistake you for some other brand he's promoting.
I had no problem recalling the Monster.co.uk ad telling me how it can help me if I want to change job. It could have been the clear, interesting premise, the careful copywriting, the casting and the spot-on direction that made it lodge in my synapses. Or it could just have been that it's rather relevant to me as a career change is heading my way when COI gets the axe.
Last one was the Metropolitan Police Service. The top-and-tail device showed care and co-ordination in the planning and creative, and the idea, the casting, the performances and the sound design lifted it well beyond the standards of the vast majority of radio ads. It's a shame that this was originally, I think, a video, and it's an indictment of the attention given to radio by many creative agencies and their producers compared with the care they lavish on video – even just virals. Surely more radio deserves the same attention?
Nearly all these ads had ambitions, which is great. It's a pity most of them didn't pull it off. What makes memorable radio ads is a good idea given time to work (ie. 30 seconds is rarely enough); copywriting that cares about the sounds and rhythms of words; casting voices that work for your brand and can deliver meaningful performances; and making sure the sound design is convincing. Do that and your radio ads will stand out from all the others, and will help me remember what you're promoting. Why does that seem to be so difficult?
Monster.co.uk 'problem' by AMV BBDO
Client: David Henry, marketing director, Monster.co.uk
Brief: Monster.co.uk has thousands of jobs and is easy to deal with
Agency: AMV BBDO
Creative: Paul Burke
Producer: Paul Burke
Sound studio: Angell Sound
Engineer: Nick Angell
Campaign exposure: Radio
Metropolitan Police Service 'different ending' by Global Radio Creative
Client: Stephanie Day, assistant director, Directorate of Public Affairs, Metropolitan Police Service
Brief: Search online for "choose a different ending", an interactive film to engage viewers with knife crime and its implications
Agency: Global Radio Creative
Creative: Alastair Beaton
Producer: Dan Akers
Production company: Global Creative
Engineer: Dan Akers
Campaign exposure: Cross-platform
Lloyds TSB 'night owls' by RKCR/Y&R
Client: Alistair Adams, campaign manager, Lloyds TSB
Brief: Showcase all the useful things Lloyds TSB does for its customers
Agency: Rainey Kelly Campbell Roalfe/Y&R
Creative team: Damon Collins, Cassandra Yap
Producer: Dan Neale
Sound studio: Zoo
Engineer: Chris Turner
Campaign exposure: TV, cinema, online, radio
Gordon's gin and Schweppes Premix 'snorkel' by Dare
Client: Charlie Brown, senior brand manager, Diageo
Brief: Mix up your weeknights by having a premix rather than a more predictable drink such as beer
Agency: Dare
Creative team: Jesper Lonnqvist, Joakim Hutchinson-Kay
Producer: Desiree Bors
Sound studio: Wave Studios
Engineer: Jack Sedgewick
Campaign exposure: Radio, TV, online, Facebook
British Gas 'rescue me' by CHI & Partners
Client: Chris Brocklehurst, head of advertising, British Gas
Brief: Promote British Gas Home Service home call-out cover
Agency: CHI & Partners
Creative team: Rob Ferrera, Liz Oakley
Producer: David Jones
Production company: The Jungle Group
Engineer: Chris Turner
Campaign exposure: Radio
O2 'blue whale' by VCCP
Client: Anton Colton, direct marketing manager, O2
Brief: Highlight a special deal for a limited time on O2's £15.50 for 12 months tariff
Agency: VCCP
Creative team: Hugh Bone, Tony Clements
Producer: Charlie Davies
Sound studio: Factory
Engineer: Sam Robson
Campaign exposure: Radio, press, online