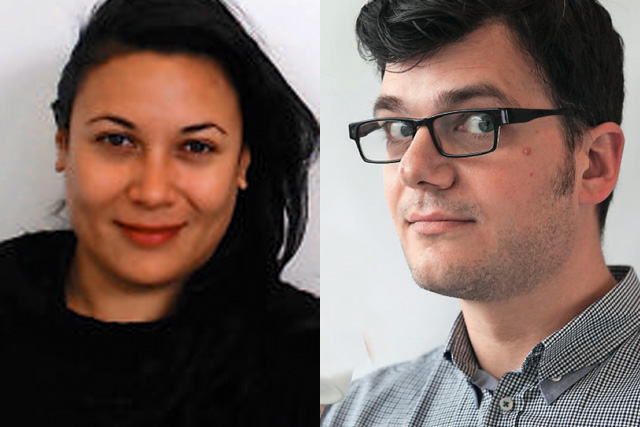 Selena McKenzie, creative director, Wieden & Kennedy London
Paul Snoxell, creative director, Partners Andrews Aldridge

The only time I hear radio ads is when I'm taking a cab. So I thought, let's hear it from the nation's unsung experts on radio advertising. Those who've clocked up hundreds of hours subjected to the stuff. Taxi drivers. And trawling the East End on a Sunday night, here's what

we thought of this month's selection…

A Child of Mine. "Wouldn't play it to a stranger, if I were you – in case they've lost their child. I lost a goldfish once. Glad you haven't got a goldfish one of those – I'd be in tears." (Phil, 42)

"What did she say? Husband loses a wife is a widower. A widower that loses a… You're wondering what she's said when she's saying something else while you're still trying to think what she's talking about. It ain't to the point. And it gets you mixed up. I ain't having that advert. Nah, that's no good at all." (Keith, 63)

"Boring. Snoring. Switching the station over." (Greg, 50)

German National Tourist Board. "That is a good ad. But who'd want to go to Germany?" (Tom, 45)

Volkswagen. "If you're spending 15 to 20 grand on a car, all you are interested in is how fast it can go, what sort of brakes it's got, what the interior looks like, you know – you're not interested in anything else. So that is a waste-of-time advert. That won't get anyone into a Volkswagen shop. Absolutely nobody." (Keith, 63)

"I'm not understanding the Volvo one properly – I'm not too sure if you get a free bookcase with every Volvo. Good advertising for a mobile library, though." (Phil, 42)

Network Rail. "Sorry, I've switched off already. I stopped listening. If I'd heard it on the radio, I'd have changed stations already." (Chris, 48)

Monster Munch. "No-one talks like that any more. Not my cup of tea because I'm not into that kind of thing. If it was my cup of thing, I'd probably like it." (Phil, 42)

"I really liked it – it was totally different, wasn't it? It was gonna tell this story, like, of Vlad the Impaler, and the story turned out really good. You don't expect what's coming. Whoever thought of that one was great." (Keith, 63)

The Karen Clifford Skin Cancer Charity. "I already knew that about the sun. It's no good for you. Very, very good ad, though." (Ivan, 32)

"OK advertising. But you know people just don't have the time to switch to www, dot, co, y'know etc. Just tell us what you need us to do on the advert. I'm in the wrong job. I'm wasted, aren't I?" (Phil, 42)

For the record, I was nodding along to what Keith had to say about Monster Munch. But, to be honest, I thought the German spot was particularly annoying. For the life of me,

I don't know what Tom saw in it, and he didn't even like

the country.

I am going to start my Private Hear review column with a terrible admission. One that may well anger the sponsor of these pages and disgust advertising professionals across the boozers of Soho. Here goes: I don't listen to commercial radio.

Now that I'm settling comfortably into my forties like a hippo in a shit swamp, the heavy rotation of David Guetta-produced audio effluent and hollow-headed "bants" of many of the presenters hold little attraction for me. Mind you, if the programming output was as carefully considered, crafted and produced as these ads, I might consider a return.

First up, appositely, is a Volkswagen used-car spot about two men putting up bookshelves. One man whistles while he works, for he has just bought a VW. The other smashes his handiwork to pieces as he bought a different car. I love the voice, but it's a bit "Late Nite DJ" in pace. Not sure if it would have me leaving my DIY to visit a VW dealer.

Stop the press! The car park's closed at Birmingham

New Street station. Wait, it's open. And the exits are closed. But new ones are open. How do I know? By listening to two Brummie voices hired by Network Rail switching between left and right on my headphones. But it doesn't work so well without them. And who listens to radio on headphones? Perhaps I should ask Network Rail.

The A Child of Mine spot is beautifully written, based on the simple observation that there is no word for a bereaved parent. I can't imagine outliving my children but, if the unimaginable happened, this spot tells me there's support to be had in a clear and sensitive way.

The ad for the German National Tourist Board starts promisingly with a spot of Beethoven. Then a bored girl instructs me to think again while what sounds suspiciously like library-sourced AOR underpins the thrilling news that "Germany rocks" and I should be going there this summer. It's a "nein" "from me.

Wherever I go this summer, I'll be slapping on the factor 40. Starting with a jaunty The Sun Has Got His Hat On, The Karen Clifford Skin Cancer Charity reminds us that skin cancer kills seven people a day – less jaunty news. Asking you to visit the website for advice feels a bit mean-spirited, though. Isn't radio a great platform to tell the whole story?

Which rather too neatly takes us to a monstrous tale of milky-skinned wenches, ravenous vampires and pickled-onion-flavoured Monster Munch. I was held rapt for the whole 60 seconds, imagining not knowing who it was for when I heard it for the first time (bloody iTunes). And "what else would monsters munch?" is a contender for best rhetorical question since "fancy another?"

It has been a cathartic and somewhat emotional listen. Huge respect to anyone involved with these spots – every creative endeavour should be applauded, if not universally adored. Here's hoping I don't get glassed next time I'm in The Blue Posts.

Click here to view the Private Hear archive
Add to Private Hear showcase