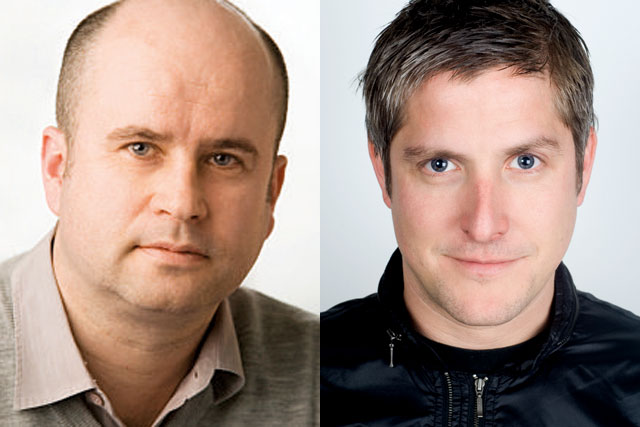 Al Young, creative partner, St. Luke's

Danny Brooke-Taylor, outgoing executive creative director, Dare

Its devotees will tell you that radio is "the theatre of the mind". But radio is also the medium that we do while we are doing something else, and my tiny mind frequently gets distracted, tips up its theatre seat and toddles off elsewhere. How many of these spots will stop it wandering out of the auditorium, then? The curtains of the mind part and it's… Kwik Fit "mates' rates".

An old man with an apple-crumble voice reassures me that I won't have to sing Happy Birthday to any grease monkeys in order to get a good deal on my exhaust because the deals you get at Kwik Fit are always great. I get it. It's OK. But my mind wants to go and check my e-mails.

Focus returns in the form of an ad for the Metropolitan Police's Anti-Terrorist Hotline. We hear a series of uncertain snitches call the Feds because they don't like the look of their neighbours. Wasting police time is a punishable offence, so this campaign is all about proving it is OK to act on your hunches. Ringing the Old Bill because you don't like the cut of next door's jib is not the sole preserve of the curtain-twitching busybody. This has got me. I live in Kilburn. I'm with this all the way and I will be again on my next paranoid walk back home from the Tube station.

While I'm noting the Met's number, up pops the Austrian National Tourist Office. A gin-and-tonic mumsie tells me that, although London is great, sometimes it's good to go to Austria. In seconds, my mind is racing. Not down the cobbled streets of Salzburg. Not through a snowy Alpine pass. But racing with questions such as "Isn't this some kind of audio advertorial?", "Why?" and "What on earth can be said about it?" Enough said on this one already, perhaps.

Next, an ad for the Foreign & Commonwealth Office. Behave yourself on holiday. In my left ear is a nice, sensible lad who just wants an enjoyable vacation. In my right, a second, emotionally ill lad loves not only getting into "wicked fights" but the consequent overnight stays in Cypriot police cells. I guess the message here is that if you are buddies with someone who is known to be criminally insane, it may prove better for your R&R not to holiday with them. Wise words. Unless, of course, you are planning a trip to Austria.

Now on to Nationwide. A heartbroken, middle-class mother straight from an 80s sitcom finds her son is concealing unsavoury material beneath his bed. It turns out not to be April 2001's edition of Shaven Ravers, but the Nationwide property guide. Poor old Mum is struggling to accept that it might finally be time for her 39-year-old son to fly the nest. Maybe the insight is for a previous generation, but that's just nitpicking. Because my mind stayed with it all the way to the reveal. And it's funny too. Good work.

Will attention still hold for the last one in the spotlight? Weetabix. A six-year-old girl plans her big day ahead and it is a delight. She carefully catalogues everything that little girls like to do with their time. It is insightful and it is exquisitely performed. Just like little girls, it does go on a bit… and that's the idea. My mind held with it all the way. And Weetabix proves itself to be the best possible end as well as the best possible start.

I've just changed my Wi-Fi name to "Terrorist Cell". Now anyone operating a Wi-Fi device within 500 metres of my house will be alerted to the fact that some "baddies" have moved in. Surely some upstanding citizen will be suspicious.

They won't tolerate this potential threat to national safety. They're bound to call the cops, the Army, the SAS. Aren't they? Nah, are they heck. No-one will do anything about it. Because, despite the fact that us Brits love a bit of curtain-twitching, we don't want to cause a fuss. We don't want to waste anyone's time. "It's probably nothing," they'll say, and ignore it. And it's this truth that is employed to good effect in the simple Anti-Terrorist Hotline ad for the Metropolitan Police.

There's very little truth in the Foreign & Commonwealth Office ad warning boozy Brits of the dangers of misbehaving while holidaying in Cyprus. The characters sound like two-dimensional stereotypes born from the pages of the Daily Mail. One is called Mazza and has been on a wicked holiday where he got into a wicked fight. Dick.

Mind you, anyone tempted by the commercial for the Austrian National Tourist Office could do with a good kicking from Mazza.

It begins with the line "As much as you may love London…" and they kindly include the sound of Big Ben to help us visualise this. This patronising drivel continues with the voiceover suggesting that we "might need a break to discover something new". Yeah, go on Mazza, don't hold back, fella.

The recent Weetabix telly ad featured a family preparing for the big day ahead. It had a wit and tonality that the brand continues to employ in this radio ad. It tells the story of the little girl with a big imagination. She tucks into a large bowl of the "fuel for big days". The slow-release energy will help her dress in pink, make tiaras and perfume and stuff, then have a tea party with a lollipop dragon.

I guess the casting brief probably said something like "a bit like the girl from Outnumbered", as the character in the ad is a lot like the girl from Outnumbered. Sweet, though.

Meanwhile, at Kwik Fit, you can get 25 per cent off tyres and an MOT will only knock you back 35 quid. Done. Job's a good'un. Except it isn't, because the ad then goes on to meander through a half-joke about not needing to be friends with the brand to get a mates' rate.

Finally, the ad for Nationwide. It features a cringey moment between a mum and her son. She has found something under his bed while tidying his room. Oh God, I think I know where this is going. It reminds me of the day my mate Phil hid a full pack of hardcore porn playing cards around my mum and dad's house. Fifty-two of them, all individually tucked into the fridge, the airing cupboard, the dog basket, you name it. Pure filth. We never did find the seven of clubs, which still brings me out in a cold sweat to this day. But back to the ad, it turns out the mum hasn't found her son's "special crispy sock" or busted his stash of jazz mags, after all. It's just the Independent First-Time Buyers' Guide from Nationwide. Which is quite funny. Anyway, I'd better go. A helicopter has just landed in my back garden and a bloke with a submachine gun has just kicked the front door in. Where's Mazza when you need him?
Austrian National Tourist Office 'in pursuit of Austria' by All About The Idea
Client: Martina Jamnig, press officer, Austrian National Tourist Office Brief: Promote summer holidays in Austria and its hidden treasures
Agency: All About The Idea
Creative team: Jo Furnival (AATI), Martina Jamnig (ANTO)
Producer: Tom Tuke-Hastings
Sound studio: Global Creative
Engineer: Dan Akers
Campaign exposure: Radio, press, online
Foreign & Commonwealth Office 'know before you go' by COI
Client: John Marshall, consular communications team, Foreign & Commonwealth Office
Brief: Reach young (mainly male) British holidaymakers, in resort, to try to encourage them to behave within local laws, respect local customs and take responsibility for their own actions
Agency: COI
Creative: Jon Elsom
Producer: Brian Jenkins
Sound studio: Scramble
Engineer: Dave Cooper
Campaign exposure: English language radio in Cyprus
Weetabix 'big day' by BBH
Client: Francesca Davies, marketing manager, Weetabix
Brief: Communicate that Weetabix gives fuel for busy days
Agency: Bartle Bogle Hegarty
Creative team: Chris Clarke, Matt Moreland
Producer: Sam Brock
Sound studio: Jungle
Engineer: Gez Lloyd
Campaign exposure: Radio
Kwik Fit 'mates' rates' by DDB UK
Client: James Hyland, senior marketing manager, Kwik Fit
Brief: Twenty-five per cent off all tyres and MOT for £35
Agency: DDB UK
Creative team: Patrick McClelland, Feargal Ballance, Steve Hall
Producer: Sarah Browell
Sound studio: Clearcut
Engineer: Mark Hellaby
Campaign exposure: Network radio
Metropolitan Police 'anti-terrorist hotline' by AMV BBDO
Client: Metroplitan Police Service
Brief: Call in to report suspicious (possibly terror-related) behaviour
Agency: Abbott Mead Vickers BBDO
Creative: Paul Burke
Producer: Paul Burke
Sound studio: Zoo
Engineer: Jim Griffin
Campaign exposure: London radio
Nationwide 'first-time buyers' guide' by 18 Feet & Rising
Client: Alastair Pegg, marketing director, Nationwide
Brief: Radio execution for Nationwide First-Time Buyers' Guide, a free, independent guide to buying your first home
Agency: 18 Feet & Rising
Creative team: Stephen de Wolf, Max Weiland
Producer: Emily Hodgson
Sound studio: Wave
Engineer: Jo Mount
Campaign exposure: National radio