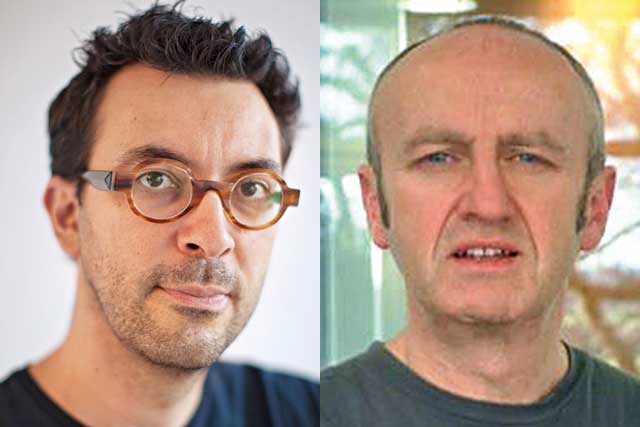 Andre Laurentino, executive creative director, TBWA\London

Neil Lancaster, creative director, McCann Manchester

Often, a good indication that you are standing before a great piece of work is that it looks effortless. Its brilliance is so inspiring and encouraging that it gives the illusion that you could possibly do it too. From a song by The Beatles to a Saul Steinberg drawing, you look at it and think: it's actually easy to be a genius.

Sadly, the opposite is also true. And I'm afraid this month's radio ads show how hard it is to produce great work for radio. These spots have all tried, but I'm not sure they've all succeeded.

The Co-operative's "chicken tikka" ad unfortunately goes down a well-trodden path: ready meals that taste so good, people will think that you've made them yourself.

The execution should have really knocked it out of the park to compensate for the not-so-fresh insight. I don't think it did, though.
Haribo's "once upon a time" ad has a cute little story narrated by a charming young girl. But this ad relies on too feeble a gag to give it some flavour: the kid bites the character's head off. Then dad joins in and does the very same thing. Production also leaves a lot to be desired. Not this time – sorry.

The Flower Lady of North Devon. Hmm. When you haven't got a very good idea, make it shorter. This is the lesson I've learned with this one-minute piece.

Aviva's life-insurance ad, "Colin", gave me the impression it was going to be a funny one, with a clueless man trying to cook a meal. Then it went down quite a sad, serious path and talked about how a loved one is missed when they die. Then it got businesslike and talked about numbers. Then the man came back with a humorous remark. I think the last line is a lovely thought, and had so much more potential: "When big things happen, little things matter."
The ad for Subway, "morning feeling", is an honest one.

It has some decent copy and doesn't try too hard.

And, finally, Nuffield Health's ad, "heartbeat", is quite informative – if too straightforward in how it compares the details of a heartbeat to the details of its new Chesterfield Hospital. No harm – but no charm, either.

I'm terribly sorry to be this grumpy and finicky. But I do remember the day when I was chairing the Loerie Awards in Johannesburg and heard so many great radio spots that I came back home craving my next radio brief. Those spots (which later went on to win gold Lions in Cannes) showed me that radio was really easy and great fun to write.

So bear with me. I want more of that illusion, please.

I once read that Guglielmo Marconi, a hugely interesting man, was convinced that everything ever said lies forever on the airwaves. He pretty much invented radio, but he was actually on a very different quest: he wanted to tune in to the last words of Jesus.

On a different bandwidth, other things can be heard.

There are two chicken tikkas for less then a fiver at The Co-operative. The "Did you make it yourself? Yes I did" fib is reheated here, together with platters featuring The Great Pretender. And the conversation was going so well.

The Haribo ad shares a similar construction – a narrative overtaken by a pre-prepared track: in this case, a head-lolling Euro-chant the client may be desperate to have sung in playgrounds.

The Flower Lady of North Devon must be doing well – she's got Parker and Lady Penelope doing her ads. Is this Sylvia Anderson here? Surely not. Is the other one David Graham, the authentic voice of Parker? In The Flower Lady commercial, all possible permutations for Thunderbirds characters to receive flowers are explored. If I'd had the gift of Parker, I'd have forced him to deliver a script entirely on his own.

The £2 breakfast meal deal from Subway features Potter-ish music and someone my voiceover app cannot recognise. Where it scores for me is in the use of bacon. New Beechwood-smoked back bacon. I love porky alliteration and I had to replay that repeatedly like the recent dog with the sausages.

Nuffield Health wheels out the electrocardiogram for the new Chesterfield Hospital, inviting us to compare a healthy heartbeat with an irregular one. I could tell the difference. The irregular one sounds irregular. Apparently, they can tell too. When's that open day? I suspect the reality is that the cardio theme is a well-chosen one.

Recently, the BBC radio drama Life In The Freezer, For When I Am Gone told the story of a woman dying of cancer who lovingly prepared 50 frozen meals for her family on the basis that a family that eats together, stays together. Wonderful it was too.
And the thought that food connects beyond nourishment has been introduced in the Aviva work. It's not Mike Leigh, but it does talk about the unspeakable subject of provision after a loved one has gone, in a different way. The "When big things happen, little things matter" line brings it back to adland with a bump, though.

Radio is hard. The tyranny of 30 seconds. Award-winners tend towards epic length. Clients so often use the radio space as a place for mini-brochures or dump-bins of detail, grating on creatives who know that great emotional impact can be achieved with the medium. It's the old story. Let's make one point, but make it very well indeed. No "Phirips" here, then. But keep checking those bandwidths.

Click here to view the Private Hear archive
Add to Private Hear showcase