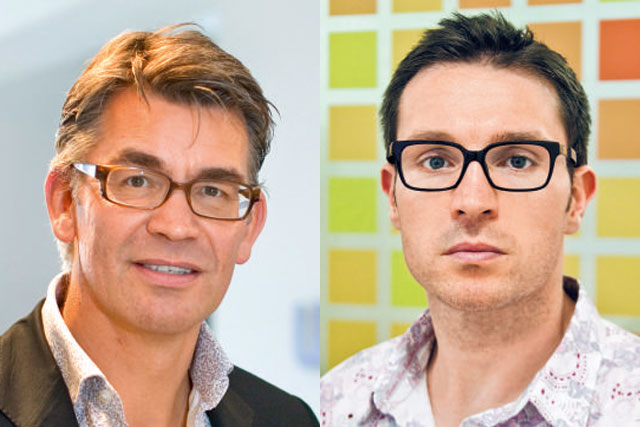 David Harris executive creative director, Wunderman

Graham Wall executive creative director,
The Marketing Store

When I started out as an art director, my creative director made me do layouts over and over again. Only by looking at great ads and by learning from them, he said, would I get the first idea of where to start. He made me start by doing 20 thumbnail roughs so I would consider the hierarchy of information. Then, more so, I would understand the balance of light and dark. He would make me crop and recrop images. We would try the headline big and bigger. He made me attempt more things than I imagined were possible because he didn't want anything that "defaulted to mediocrity". When we got our first radio brief, I breathed a sigh of relief. But it turned out the rules were just the same. So let's look at the art direction of this selection of radio ads.

Nationwide tells us it gives text alerts so you know when its variable rate changes. Very helpful. But it has gone all Desdemona Italic on us with ornate borders. And the "Candy [pause], the new receptionist" gag is as irritating as a starburst.

Asylum Paintball claims it's like nothing you've ever played. Only it sounds very familiar – every film trailer with a bit of the Army campaign thrown in. "Better. Think. Fast," it tells us. I agree and maybe listen to some radio plays too. Learn how to create excitement and suspense using some white space and headlines that really pack a punch.

Powwownow is a lovely sound. Yes, it sounds just as interesting as it looks. Words have personalities and quirks that can be used brilliantly in radio. Some words just sound funny ("platypus"). Some actually suggest what they mean ("predicament"). We can play with language using alliteration etc. and make it communicate so much more than just words. This ad should have edited out everything that got in the way of the female voiceover saying "use Powwownow" at the end.

Virgin Media's "Mr Zip" badly spoofs a rapper so it can get in a gag about "not making a song and dance" about losing your mobile. It's a bit like those ads that attempt to fit in by trying to look like the editorial. It never quite works. It's also dangerous to invite comparisons to the likes of Jay-Z, who might just follow the commercial break.

Something about the sound of a child screaming is programmed to make us take notice. The conversation between the mother and son in this Weetabix ad works – although I find the child as difficult to understand as some Carson typography. A variety of textures have been played with and it has some standout.

Tetley has a genuine insight: our lives are so full of Tweets, texts and status updates that we've forgotten how special a five-minute catch-up over a cup of tea has become. Our lives are cluttered with all sorts of irrelevance, so I'm sad that it has packed the ad with even more of it. It's a lovely, simple message that ends up feeling like a classified.

I used to feel my creative director was the most picky, pedantic, negative person in the world. I have no doubt someone reading this will feel the same about me. But he taught me what to look out for, to simplify everything and to question every element of every communication to ensure it was relevant. When we presented our radio scripts to him, he asked us the one question that is most relevant to any radio scriptwriter: "Do you ever actually listen to the radio?"

Quite by accident, I discovered that one of the very few things that would get my newborn son to sleep was the gentle humdrum of commercial radio. As a result, over the past couple of years, I've listened to more radio ads than even the most passionate or conscientious of creatives. As well as making me a far greater expert in middle-of-the-road pop than I would like to be, it has also made me even more critical of lazy radio ads, and even more grateful for those that make you think and make you smile. So it's with an overly finely tuned ear that I listen to the first of my Private Hear ads…

It's a simple, populist spot for Virgin Media that makes great use of the frustratingly likeable Britain's Got Talent novelty entrant Mr Zip. Like all my favourite ads, this has a clever twist – in this case, taking his phone/keys song from the show and putting Virgin Media's free phone insurance at its heart. In short, this is a smart, likeable ad that makes the most of radio's ability to react to the latest trends.

Next up is Weetabix. We hear a mum and son discussing all the adventures he's going to get up to, fuelled by his big bowl of breakfast. Of course, this is a well-trodden idea, but it fits nicely with the brand and could've worked well. I say "could've" because, despite listening several times, I can't make out half of what the boy is saying. And that unintelligibility, combined with the overly chirpy mum, leaves me feeling a solid, if rather unoriginal, idea is let down by the production.

"Take a moment… and think about the last time you chatted with your favourite person. Were you looking at their face? Or a screen?" is the question Tetley asks us. It's an interesting opening that strikes home with me. Which makes what follows rather disappointing because, while I love the idea of Tetley standing for a good chinwag and a cuppa, do we really need the Orwellian government mandate "You will now share gossip with your friends"? It just feels patronising and like it is reading out the campaign strategy.

With clients increasingly wanting ideas to work in multiple markets, teleconferencing is becoming an everyday reality. So I was looking forward to hearing Powwownow's latest offering. Interestingly, the bit that cuts through is the simple offer of free conference calls, with the "fat cat in Lord Kitchener mode" opening coming across as trying to crowbar in an idea. With an offer seemingly this good, shouldn't you just tell me about it and use the money to run more ads?

Unfortunately, the less said about Nationwide's ad the better. The whole marital distrust thing really is as lazy, clichéd and, frankly, sexist radio writing as you're likely to hear. In fact, given the lack of imagination put into the script, the only thing it has got going for it is that it's instantly forgettable.

Lastly, we have an ad for Asylum Paintball. As it begins, I find myself wondering if I'm listening to the launch of the latest Call Of Duty, or perhaps an Army recruitment ad. It's entertaining, galvanising stuff. Ultimately, will it be remembered? Well, I reckon it would convince anyone up for a blokey challenge that this place is not for wimps!

So, all in all, it has been a rather mixed bag. In fact, forget getting my son to drop off – apart from Virgin Media and Asylum Paintball, I may use this playlist to get me to sleep.
Tetley 'manifesto' by Dare
Client: Michelle Colley, senior brand manager, Tetley
Brief: Show the role that tea – and, therefore, Tetley – can play in connecting people to their nearest and dearest
Agency: Dare
Creative team: Ben Steiner,
Toby Burnett
Producer: Lisa Nicholls
Sound studio: Wave Studios
Engineer: Tony Rapaccioli
Campaign exposure: Radio
Weetabix 'kid's big day' by BBH
Client: Francesca Davies, marketing manager, Weetabix
Brief: Show that Weetabix gives fuel for busy days
Agency: Bartle Bogle Hegarty
Creative team: Ed Cole,
Lewis Mooney
Producer: Sam Brock
Sound studio: Factory Studios
Engineer: Will Cohen
Campaign exposure: Radio
Asylum Paintball 'mancunia' by Key 103
Client: Raine Williams, proprietor, Asylum Paintball
Brief: Match on radio the visceral thrill of a YouTube video the client had already produced demonstrating the cinematic aspects of the Asylum Paintball experience
Agency: Key 103
Creative: Phil Cihlar
Producer: Peter McLean
Sound studio: Key 103
Engineer: Peter McLean
Campaign exposure: Local and regional, September-October
Campaign exposure: National radio
Powwownow 'world war free' by Gyro
Client: Casey Williams, marketing manager, Powwownow
Brief: Drive awareness of Powwownow and promote its "more sense than money" proposition
Agency: Gyro
Creative team: Peter Davis, Angus Prior
Producer: Kath Fox
Sound studio: The Voiceover Gallery
Engineer: Neale Laxton
Campaign exposure: Key 103
Nationwide 'I want to know' by 18 Feet & Rising
Client: Alastair Pegg, head of brands and marketing, Nationwide
Brief: Communicate Nationwide's new SavingsWatch text-alert service
Agency: 18 Feet & Rising
Creative: Stephen de Wolf
Producer: Emily Hodgson
Sound studio: Wave Studios
Engineer: Joe Mount
Campaign exposure: Absolute Radio, LBC 97.3FM, talkSPORT
Virgin Media 'Mr Zip' by Rapp
Clients: Sophie Lavender, Josh Virgona, senior campaign managers, Virgin Media
Brief: Highlight that Virgin Media mobile customers get insurance included in their tariffs
Agency: Rapp
Creative: Dan Colley
Producer: Nev Petty
Sound studio: The Sound Company
Engineer: Dom Boucher
Campaign exposure: Two-week burst on Kiss FM
Click here to view the Private Hear archive
Add to Private Hear showcase