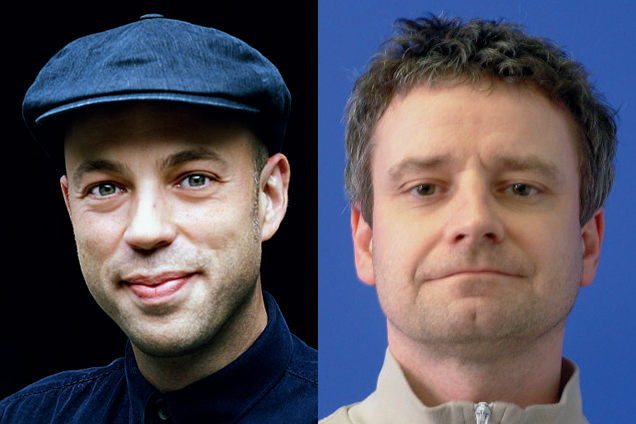 Ben Tollett, executive creative director, Adam & Eve/DDB

Al Young, chief creative officer,
Inferno

Normally, I would share the joy of writing a review column with my lovely creative partner, Emer Stamp. Not this time. Emer has recently given birth, so she is at home taking care of the baby, and I am in the office looking after the ads.

So will this bunch of radio sextuplets deliver the warm glow I'm looking for? Or will they make 30 seconds feel like a prolonged labour, leaving me howling with agony and begging for an ear epidural?

First up is a spot for Moneysupermarket.com. I really like the TV campaign, with its absurd, overblown action-hero comedy. But that has been ditched here in favour of naming and shaming competitor sites. This is a strong idea, perfectly executed. But it lacks the personality of the TV ads. It doesn't feel so Moneysupermarket to me – sorry.

The next ad, for Prostate Cancer UK, tells me that prostate cancer kills 10,000 men in the UK every year. Maybe fewer men would die if they talked openly about the problem like women do, the guy says. Cue his voice turning into a woman's. I like the insight that women are more up for talking about medical problems. Feels like a good truth.

An ad for Road Safety Scotland has a bunch of kids singing songs to promote better driving by parents. Which is slightly odd because, in my experience, it's the kids raging in the back who cause the bad driving. Made me laugh, but feels like a Formula One-standard creative has been strapped to a Robin Reliant strategy.

Socks that fall off toddlers' feet are a massive problem for parents. Second only to nuclear nappies. Oh, and milky puke. No-one has come up with a solution for the involuntary emissions, but some clever person has invented Little Grippers, socks that don't fall off. Then they made this cute little ad to sell them, a fairytale about a land of lost socks. As the father of two young boys, I fully understand the temptation to condense a fairy story into less than 30 seconds. And, since I myself have never managed to break the three-minute barrier, I'd like to congratulate all involved.

The announcer on this ad for YouView says everything back to front, which left me feeling a bit lost and bewildered. On the upside, it definitely communicates that YouView has got a great scroll-back function. On the downside, it makes the technology sound complicated. Hurt. Head. My. Made. It.

Finally, an ad for Blair and Sheridan diamonds. A posh woman called Jules tells her boyfriend they should split up because he bought her a crap engagement ring. Seriously? The woman's a lunatic. I reckon her ex has made the right call. Run for the hills, man, while she's still working out how to load daddy's shotgun and you've got the use of both your kneecaps.

Much like babies, then, these ads were mainly a total and utter joy. With just a few odd tantrums here and there. Let's go make some more.

I am lucky enough (and immodest enough) to say I've won three D&AD Pencils. Two were for TV. One was for radio. And, perhaps, I am secretly proudest of the one for radio, because good radio is hard. You have fewer creative fireworks to call on than in probably any other channel. You're lucky if your audience is half-paying attention. And, toughest of all, nobody really believes you'll produce something good anyway.

Great radio commercials are rare. They doggedly refuse to be defeated by the harsh realities of the medium. Instead, like Royal Marines up against the odds, they find a way.

So did any of these six radio commercials find a way?

Moneysupermarket.com's "drum solo" makes its point clearly and competently, analogously using music to dramatise product superiority. Job done. (As it has been done many times before by creative teams employing the same device.)

Next is "woman" from Prostate Cancer UK. The underlying idea is interesting. Prostate cancer kills thousands of men every year because men are rubbish at talking about their health. If women had prostates, they would be shouting and bonding from the rooftops, raising awareness and funds. The insight is very strong. But, frustratingly, the execution is not. The writing is flat, and the casting and production uninspiring. A genuine shame.

The Scottish Government's Road Safety Scotland ad, "the wheels on the car", asks us to be less-aggressive drivers because, if we aren't, we are teaching our kids to be bad drivers. The kid singing is engaging, but the analogy is tortuous. The creative team gave it a decent crack, but I fear this was a bit of a planner and/or client hospital pass.

Little Grippers are school kids' socks that stay up. There is a brilliant radio idea waiting to be written about socks that stay up. It is still waiting to be written. The kids' story approach used in this ad, "lost socks, chapter one", is familiar. It's fine. It's OK. But it's also all too easy to dismiss as just more of that beige noise filling a typical commercial radio break.

Next, YouView's "scroll back" wants me to get excited about its scroll-back service that allows me to catch the shows I missed. To dramatise it, a voiceover talks backwards. Again, it's fine, but if half my brain is focused on boiling an egg or trying to find the A322, will the other half really bother working with this gag?

Finally, to an MP3 intriguingly from Blair and Sheridan. Turns out Blair and Sheridan will create for you the perfect engagement ring. The commercial, "engagement", is a Dear John letter from a woman on the verge of a nervous breakdown (and, quite possibly, drunk too). She clearly didn't get the ring she was hoping for. It's odd, but not in a good way. And dreadful, in a dreadful way.

Some decent work here, but none is great. My apologies for every nose put out of joint. As I said, good radio is hard.

Click here to view the Private Hear archive
Add to Private Hear showcase