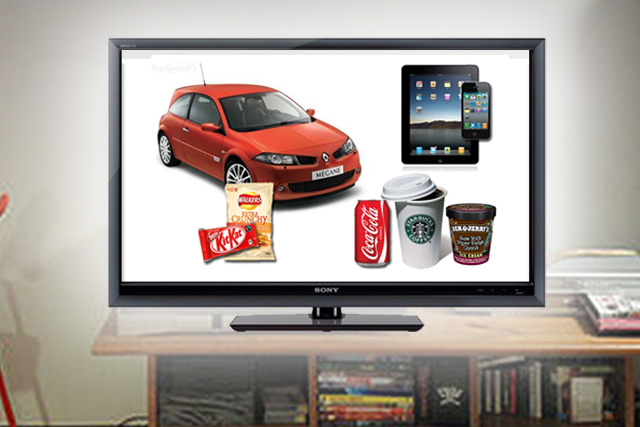 To pave the way for paid-for references for products and services, as revealed by Media Week earlier this month, regulator Ofcom has published new rules about what can and can't be shown today (20 December).
Accompanying the rules will be a new product placement logo that Ofcom will issue in the New Year, which must appear for a minimum of three seconds at the start and end of programmes so that viewers know which UK-produced programmes contain product placement.
The logo must also appear at the return of the programme following any advertisement breaks.
Ofcom has announced that product placement will be allowed in films (including dramas and documentaries), TV series (including soaps), entertainment shows and sports programmes.
However, it will be prohibited in all children's and news programmes and in UK-produced current affairs, consumer affairs and religious programmes.
As expected, no product placement will be allowed of tobacco, alcohol, gambling, foods or drinks that are high in fat, salt or sugar, medicines and baby milk.
Ofcom has also prohibited the paid-for placement of products and services that cannot be advertised on television, such as weapons or escort agencies. All these prohibitions are reflected in Ofcom's new rules.
The rules also state that product placement must not impair broadcasters' editorial independence and must always be editorially justified. This means that programmes cannot be created or distorted so that they become vehicles for the purposes of featuring product placement.
European and UK legislation also requires that placed products and services cannot be promoted or endorsed, or be featured in an unduly prominent way within programmes.
The TV rules reflect new UK legislation and follows the Government's decision earlier this year to allow product placement in UK TV programmes, as a result of changes to European broadcasting legislation.
The regulator has also liberalised the rules on paid-for references to brands and products in radio programmes.
For radio, Ofcom has revised the rules on paid-for references to products and services in programmes. The new radio rules, which take effect today, protect listeners by making sure that any commercial arrangements that result in on-air references to products or brands are made clear to the audience.
Previously, the only commercial references allowed were sponsorship credits around programmes, and advertisements broadcast in commercial breaks.
The new rules will permit commercial references to be integrated within programming. However, broadcasters will have to ensure that listeners are always aware when promotions are paid-for.
Paid-for radio references to brands and products in news and children's programming will remain prohibited.
Commercial TV stations who intend to broadcast programmes containing product placement will launch an audience awareness campaign, managed by Ofcom, in the New Year.
The full Ofcom rulings can be found here:
Broadcasting Code Review – Commercial references in television programming
Broadcasting Code Review – Commercial communications in radio programming