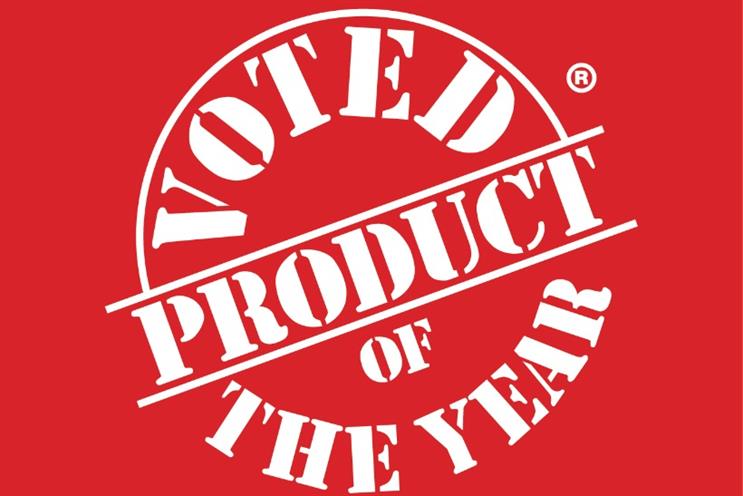 Asda's Butcher's Selection Chicken in a Bag and Butcher's Selection Roast Beef in a Tray also won places among the 43 categories, with winners selected by a panel of more than 10,000 consumers and announced at a ceremony at London venue Number 8 Northumberland Avenue last night (22 January).
Product of the Year said that consumers "are constantly reminded of the importance of cooking from scratch, but in an age when we are all so time-poor, a clear demand for predictable home cooking products has developed".
Telling a similar story of time-poor consumers rushing from place to place, on-the-go brands such as Robinson's Squash portable concentrated squash and Weetabix's On The Go Breakfast Drink also went onstage to collect awards.
Elsewhere, supermarket own-label alternatives to beauty brands fared well, with Tesco's Pro Formula and BD Trade Secrets winning in four categories, including best skincare.
This year's awards also saw the introduction of a new technology category, which was won by Acer's Iconia One 7 tablet.
Mike Nolan, Product of the Year's chief executive, said: "Innovation comes in many forms and at Product of the Year we've seen the FMCG sector pushing the boundaries of function, design and packaging further than ever for 2015.
"However, building trust in new products is vital to success. The seal of approval truly does set winners apart in a crowded market place and consumers report that they are 86% more likely to buy a winning item. This badge of trust leads Product of the Year winners across the globe to report more than a 10-15% average sales increase following their win."
| Category | Winners |
| --- | --- |
| Toothpaste | Aquafresh® Complete Care Toothpaste, GlaxoSmithKline |
| Oral Care | LISTERINE® Advanced Defence Gum Treatment, Johnson & Johnson Ltd |
| Skincare Products | Pro Formula Radiance Micellar Water, Tesco Stores Ltd |
| Facial Moisturiser | Pro Formula Q10 Anti-Age Day Cream, Tesco Stores Ltd |
| Beauty Products | BD Trade Secrets Dreamshine Highlighter, Tesco Stores Ltd |
| Hair Care | Dove® Advanced Hair Series Pure Care Dry Oil, Unilever |
Feminine Care Pad
Bodyform® Roll. Press. Go. Ultra Towels, SCA Hygiene Products Ltd
Feminine Care Liner
Always Dailies Folded & Wrapped Pantyliners, Procter & Gamble
Shampoo
Clairol 5 in 1 Camomile Shampoo
Dry Shampoo
Batiste Dry Shampoo, Church & Dwight UK Ltd
Women's Hair Removal Products
Pro Formula Satin Smooth Ladies Razor, Tesco Stores Ltd
Nappies
Pampers® Active Fit, Procter & Gamble
Baby Care
Johnson's® Baby FIRST TOUCH Range, Johnson & Johnson Ltd
Nappy Cream
Sudocrem Care & Protect, Actavis Plc
Cough & Cold Products
Benylin Chesty Cough & Cold Tablets, Johnson & Johnson Ltd
Slimming Products
Bootea 14 Day TeaTox, Eighty Twenty Ventures Ltd
General Healthcare
Sudafed Congestion & Headache Relief, Johnson & Johnson Ltd
Cereal
Weetabix® Banana, Weetabix Ltd
Spreads
Bertolli with Butter, Unilever
Healthy Yogurt
Müllerlight® Greek Style Fruitopolis, Müller Dairy UK Ltd
Dessert
Mars® Variety Mix Mini Ice Cream, Mars Chocolate UK Ltd
Breakfast
Weetabix® On The Go Breakfast Drink, Weetabix Ltd
Crisps
McCoy's® Ultimate, KP Snacks
Convenience Products
Butcher's Selection Roast Beef in tray, Asda Stores Ltd
Food
Butcher's Selection Chicken in bag, Asda Stores Ltd
Free From Products
Newburn Bakehouse Seeded Wraps, Warburtons Ltd
Nutritional Supplement
Benecol® Plus Yogurt Drinks, Johnson & Johnson Ltd
Bakery Products
Kingsmill Great White, Allied Bakeries
Drinks and beverages
Robinsons® SQUASH'D, Britvic Plc
Cider
Carling British Cider, Molson Coors Brewing Company
Alcoholic Drinks
Crabbie's Fruits, Halewood International Ltd
Sauce & Seasoning
Knorr® Flavour Pots, Unilever
Kids' Snacks
Harvest Cheweee® Cereal Bars, Halo Foods Ltd
Drinks System
SodaStream Play, SodaStream
Pet care
Felix® Sensations Crunchy Crumbles, Nestlé Purina PetCare UK
Laundry Detergents
Ariel 3 in 1 Pods, Procter & Gamble
Laundry Care & Softner
Comfort Creations Honeysuckle & Sandlewood, Unilever
Laundry Additives, Whitening & Stain Removal
DYLON® White'n'Bright™ inspired by Colour Catcher®, Spotless Punch Ltd
Household Cleaning Products
Flash Magic Eraser, Procter & Gamble
Kitchen Appliances
GoChef, JML
General Household Products
Febreze Sleep Serenity, Procter & Gamble
E-Cigarette
blu e-cigarettes, blu e-Cigs (UK)
Technology
Acer Iconia One 7, Acer
Read next