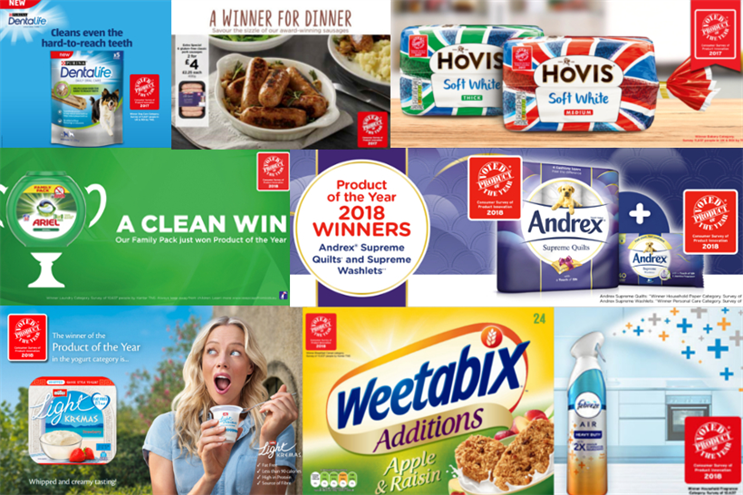 Each January, the announcement of The Product of the Year Awards' winners acts as a barometer for the most of-the-moment and insightful products that brands have brought to market. And with 86% of consumers saying they are more likely to buy product with the distinctive red logo on them, it's no surprise to see it emblazoned across our TV screens, as well as used extensively in print and digital advertising.
Last year, this could be seen in wins such as Paul Hollywood's Belgian Chocolate Brownie Mix, a clear nod to the boom in home baking, driven by popular television shows such as The Great British Bake Off. Beyond that, demand for convenience was evident with the AEG SteamPro Multifunction Oven winning in the Kitchen Appliance category. A space efficient multi-purpose machine, it can cook, bake, sous vide and grill food, meaning it is a brilliant addition to the kitchen counter for time poor consumers and keen home cooks alike.
Product of the Year's winners prove that convenience doesn't have to be sexy to be brilliant. It's about making small but tangible differences to people's lives. A baby bowl with a suction cup and a lid to stop kids throwing it around it a lifesaver for busy parents and a face cream for day and night wear which can also be used as a face mask, saves money and counter space. Modern convenience should be insightful and responsive, be it a tasty on-the-go free-from snack or something saving you five minutes or £5. This is the sort of product development that wins and retains consumer loyalty.
As the UK's largest consumer survey of product innovation, run independently by Kantar TNS with 10,000 shoppers, the awards hold significant sway in indicating what consumers really want. Those who win, have the right to use the Product of the Year logo - a highly recognisable stamp of approval - on pack as well as across all communication channels including digital, social, advertising and in-store. Winning brands see an average sales uplift of 10-15%, with some seeing increases of as much as 135%, using the logo across all communication channels including on-pack, digital and social, and in store. As such, the awards stand out to marketing professionals as an accolade which is particularly meaningful to their brands. Winners also benefit from media coverage generated by the awards themselves. And this year, with an amplified blogger and influencer programme, winners of Product of the Year are set to receive even wider visibility with shoppers.
Of course, the Product of the Year award provides plenty of sales promotion and marketing opportunities to shout about how amazing your product is. It's clear that the brands that shout the loudest about their successes see the greatest effect. As Michael Inpong, Chief Marketing Officer for Muller in the UK & Ireland, explains: We love Product of the Year, it's a fantastic institution in the UK – it helps tremendously to boost sales and drive awareness of innovation. The more you put behind Product of the Year the more you get back."
So how do brands win big at Product of the Year? Whether your product is responding to the drive to reduce plastic packaging or incorporating clever, functional ingredients it's all about the convenience they deliver for the end user. From sparkling new flavours, fragrances and recipes to dazzling new electrical and beauty products, above all Product of the Year is looking for meaningful innovations.
Mike Nolan, Product of the Year's CEO, said: "We want to hear from brands who have launched truly innovative products answering consumer needs. Product of the Year is a great way to make your brand stand out on shelf or add a wow factor to a new product launch, and ultimately boost sales. Each year we're impressed with the quality of the smart and insightful products that are entered and we are excited to see a whole new raft of innovation this year too."">
Entries are open for Product of the Year 2019.
Find out more about Product of the Year
---
Eleanor Kahn