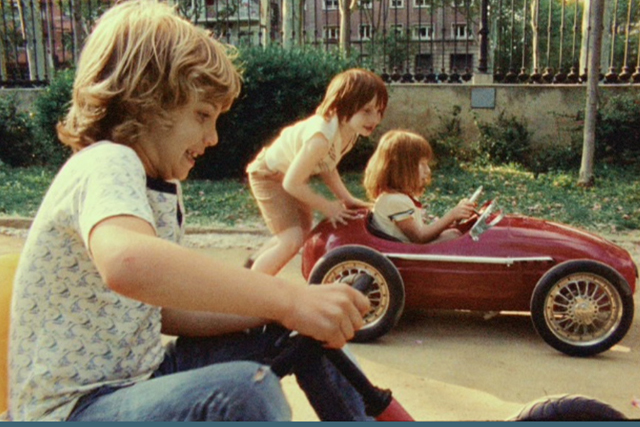 To think that, when it first started life, Blink was just the director Bob Lawrie "on his own in a room with a spliff doing animation".
That was, apparently, all that greeted James Studholme, the production company's managing director, when he joined in 1985.
It is now home to some of the industry's top directors, boasts a stunning reel and is doing a fine line in diversification. All of which means it can put a big red tick beside its aim of becoming an all-encompassing creative studio.
Commercials, art, music and now fashion are the driving forces behind the shop. Alongside Blink Productions, there's Blinkink, its animation division; Blinkart, the print, installations and exhibitions unit; Colonel Blimp, which produces music videos; and Whitelodge, a fashion arm that launched this year.
Evidently, it's a dynamic model. Blink has managed to fend off two very strong contenders - its one-time offshoot Stink and the 2010 winner, Rattling Stick - to the title of Campaign's Production Company of the Year.
Blink's 48 directors are, in the main, nurtured from within. One of its homespun stars, Dougal Wilson, the director of last year's award-winning "always a woman" spot for John Lewis, made Middle England weep once again with the retailer's brilliantly directed, beautifully produced Christmas spot, "the long wait". Wilson was also behind the engaging "farmers' race" spot for Hovis.
Another star in the Blink canon is Benito Montorio, the Naples-born, London-raised director who started his career as a documentary-maker. The authentic style intrinsic to his documentaries is also evident in his commercials, notably his stunning "chairs" film for KFC and the wonderfully nostalgic Volkswagen spot "roofs".
Adam Hashemi, meanwhile, showed a commendable lightness of touch with the comic "Pliktisijiteur pageant" spot for VO5. And new signings this year include Ben Dawkins and Anders Forsman.
With its roots in animation, it is unsurprising that Blink has been behind many brilliantly crafted animated films this year. Blinkink, which was founded in 2004 and has 13 directors, had another busy year. Simon Willows directed a follow-up to last year's Cadbury Fingers "good times" spot, the Dynasty-themed "the revelation", and showed a bottle of pop and a Scotch egg getting it on in the Oasis "Scotch egg" ad.
Barbie got the Lady Gaga treatment in David Wilson's "freedom" spot for Nokia N8 Pink, and 2011 saw the release of Noah Harris' engaging "speedboats" spot for Google. New signings for Blinkink include Elliot Dear, Treat Studios, Joseph Mann and Koja.
Blinkart, which has a roster of 12 artists, welcomed some new recruits this year including Alex Turvey and Kathryn Ferguson. It was behind several exhibitions, such as Object Abuse at KK Outlet in London and ASVOFF at the Pompidou Centre in Paris. The unit's short film for the luxury brand Nowness, by Lernert & Sander, received global attention after being blogged about by the likes of Oprah Winfrey. In addition, Craig Ward created a series of posters for the Victoria and Albert Museum for its Friday Late programme, Turvey produced an installation for Nike and Kyle Bean created a series of pencil-shaving portraits for Wallpaper* magazine.
Whitelodge, the fashion arm, creates content for fashion and luxury brands and is built on previous collaborations with Yves Saint Laurent, Halston and Stella McCartney. In addition to film work for the House of Holland and the British Fashion Council, Whitelodge also worked with the London College of Fashion on a film-mentoring scheme.
Music videos for Metromony, Keaton Henson and Kap Bambino were part of the output at Colonel Blimp. The music video unit, which has produced films for artists as diverse as Radiohead and Kelly Rowland, picked up a D&AD yellow Pencil for Dougal Wilson's Love Lost video for The Temper Trap this year.
Blink's management team, led by the flamboyant self-dubbed "ginger supremo" Studholme, and its collection of directors and artists can be proud of their achievements. Blink, a daring company, which nimbly interweaves the worlds of advertising, art, fashion and music, has come a long way from its humble beginnings. As it targets further partnerships and integration across its divisions, we look forward to some more exciting and inspiring work from its Soho offices in 2012.
Stink
Not only did Stink produce some great TV work in 2011, its digital arm, Stink Digital, can take credit for some of the industry's most innovative online campaigns. The production company boasts a fine reel this year, with standout spots including TalkTalk "homes within homes", directed by Adam Berg, which won Best Crafted Commercial of the Year at the British Arrows Craft Awards, and Martin Krejci's exquisite film for Lurpak, "kitchen odyssey", which picked up a silver Craft Lion at Cannes.
ASOS "urban tour" and Philips "obsessed with sound" stood out as campaigns that successfully married creativity and interactivity.
For the Philips work, visitors to a website were able listen to each musician in a 53-piece orchestra in complete isolation. As part of the ASOS campaign, users could click on street dancers performing in an online film and buy the clothes they were wearing.
Awards included a Cannes Film silver Lion for Diesel "history of the island", directed by Agustin Alberdi, and a silver Craft Lion for Dulux "walls", directed by Berg. Stink won two golds and a platinum at Creative Circle for Magners' "straight" and "catch" spots, directed by Ivan Zacharias. Other highlights included the brilliantly produced Stella Artois "train" spot, directed by Alberdi; Match.com "ukulele", directed by Nacho Gayan; and Ikea "play fight", directed by Krejci.
Stink, run by Daniel Bergmann, the managing director and executive producer, and Robert Herman, the head of operations, is a global force with five international offices. The shop also provides web builds, music videos, live events and art installations.
Stink Digital, led by its managing director and founder, Mark Pytlik, has become a serious player and opened its US office last year, on the back of its London success. As a whole, Stink's future-facing approach will ensure that it continues to thrive.
Rattling Stick
Last year's Production Company of the Year, Rattling Stick, was a close runner-up and had another year to be proud of. The sheer volume of high-profile work that came out of the production company in 2011 is impressive. Rattling Stick has a portfolio of directors at the top of their game, including Ringan Ledwidge, Andy McLeod, Ivan Bird and Daniel Kleinman.
Creative highs included Stella Artois "quest" and Barnardo's "life story", both directed by Ledwidge; the Sky Movies Christmas ad, directed by Bird; and Wall's "kitchen", directed by McLeod. Rattling Stick also launched a US office this year - a natural step for a company that has 20 per cent of its work originating from US agencies.
It has also expanded into digital with the launch of Rattling Stuff, its new-media arm. And it's having a growth spurt, with turnover up by 20 per cent from 2010. Rattling Stuff has a number of exciting projects in the pipeline, including a TV show, a live stunt and a pilot for a series of films, making the new offshoot one to watch in 2012.
Recent winners: Rattling Stick (2010); Partizan (2009); Rattling Stick (2008); Gorgeous (2007); Gorgeous (2006)
BLINK'S 2011
January: Launch of fashion arm Whitelodge.
April: KFC "chairs", directed by Benito Montorio, launches. Alex Turvey signs to Colonel Blimp, Blinkart and Whitelodge.
May: Launches Nokia N8 Pink "freedom" by David Wilson. Treat Studios signs to Blinkink.
June: Comedian Adam Buxton signs to Colonel Blimp. Elliot Dear signs to Blinkart and Blinkink.
November: Launch of John Lewis "the long wait", directed by Dougal Wilson.