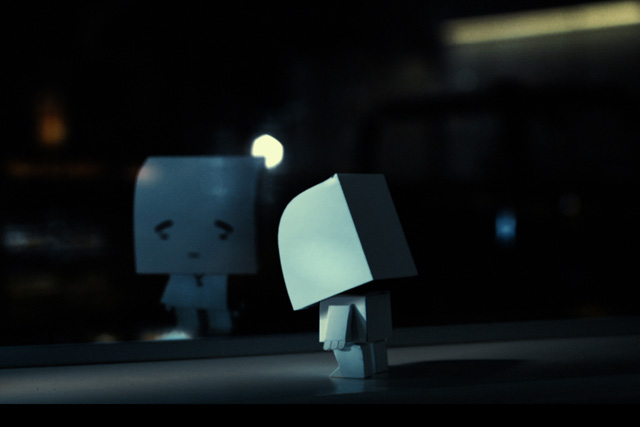 All it needed was a phone call. Had it been made, a heap of hurt feelings at a small but ambitious London production house could have been avoided, and Leo Burnett would have been spared some unwelcome sniping via the blogosphere.
But it never was. As a result, Asylum Films has felt sufficiently hard done by to publicly complain that its work has been recycled by the agency without either consultation or recognition.
Asylum is not accusing Burnett of infringing its rights, only of bad manners in failing to tell the production house that the film it made for around £4,000 was being reshot by another company for use in cinemas - and that it was not going to get the opportunity to make the spot itself.
Although the contretemps invites the question of whether the contracts between agencies and production houses ought to be re-examined to prevent any repeat, the overwhelming consensus is that nobody can legislate for an oversight.
The story begins when Burnett was asked to create a film to be screened at a gala dinner for the Ronald McDonald House Charities. With only a shoestring budget, Asylum was given the job.
The film was well-received and so the charity asked for it to be remade - this time backed by a much larger budget - as part of a bigger campaign.
The agency decided that higher production values were needed and opted to hire the production company Blac Ionica. Burnett admits that it should have called Asylum to let them know, and has apologised for failing to do so.
However, Burnett is adamant that it came up with the creative idea and the script, and rejects any suggestion that it claimed somebody else's work as its own. "We had no obligation to offer the re-shoot to Asylum," Paul Lawson, the agency's chief executive, insists.
Could the rumpus have been avoided had Asylum's hiring been subject to the terms laid down in the standard contract agreed by the IPA, ISBA and the Advertising Producers Association? Under the terms of such a contract, the production company automatically assigns all copyright to the agency on payment. Burnett agrees that no contract was signed - contrary to its established practice - but only because the production company was paid directly by the client.
Traditionally, the courts have not been supportive of commercials directors fighting for their perceived rights.
In 1998, the director Mehdi Norowzian sued Guinness and its agency, Arks, over the commercial "anticipation" - showing a man dancing around a pint of the drink as he waited for it to settle. Norowzian claimed the idea had been stolen from a promotional film he had made called "Joy".
However, Mr Justice Rattee ruled that although "Joy" had been used as a "point of reference" in the making of the Guinness ad, Norowzian's work was protected by the 1988 Copyright, Designs and Patents Act only against mechanical copying.
Ben Falk, the Asylum director who made the issue with Burnett public, insists he has no wish to invoke any form of arbitration and acknowledges that an amended standard contract is no answer.
Falk, whose work has been mainly confined to music videos, adds: "We put a lot of hard work into the film, despite the tiny budget, in order to build a relationship with the agency. We felt that we had done a good enough job to be given the opportunity to do more.
"Surely we were entitled to some simple courtesy."
DIRECTOR
Ben Falk, director, Asylum Films
"This has been no knee-jerk reaction on our part and we thought very carefully about the potential effect on our business by making this issue public. However, the response has been very positive and directors from as far away as India have been congratulating us.
"The anecdotal evidence suggests that what has happened to us is fairly commonplace. We're not out for publicity and I'm not trying to kick the hornets' nest.
"We just hope that doing what we've done will make agencies think twice before acting in this way and that they show some courtesy."
AGENCY HEAD
Paul Lawson, chief executive, Leo Burnett London
"This is a case of sour grapes from a production company that didn't get the chance to do the reshoot and has spun the story on social media.
"We are spending the client's money, not our own, so we are obliged to get the best deal we can. It's a basic business decision.
"Our only concern is that people should feel badly towards us when the fact is that we have very strong relationships with our production companies and treat them all equally. Indeed, we'd have no issue working with Asylum again if we felt it was right for the job."
PRODUCTION COMPANY
Laura Gregory, founder and executive producer, Great Guns
"Incidents like the one involving Leo Burnett and Asylum Films are very rare and I don't see any reason for amending the standard contracts that agencies and production houses sign.
"Leo Burnett is one of the most courteous agencies around, and although what happened to Asylum must have been very painful, I'm sure that it was just an oversight on the agency's part in failing to inform it that a new film was to be made by another company.
"If this had happened to one of my young directors, I would expect to be told why."
TRADE BODY
Steve Davies, chief executive, Advertising Producers Association
"I sympathise with Asylum Films. There are occasions when a production company will help an agency - in a pitch, for example - by making a film at cost or even at their own expense, in the expectation that, if this leads to proper paying work, they will be given it or at least be part of the mix. Sometimes agencies come good on that moral rather then legal obligation, sometimes they don't. If they don't, the production company will, understandably, be upset.
"If they make a film that wins work for the agency or which the client wants to buy, they expect to see a benefit."