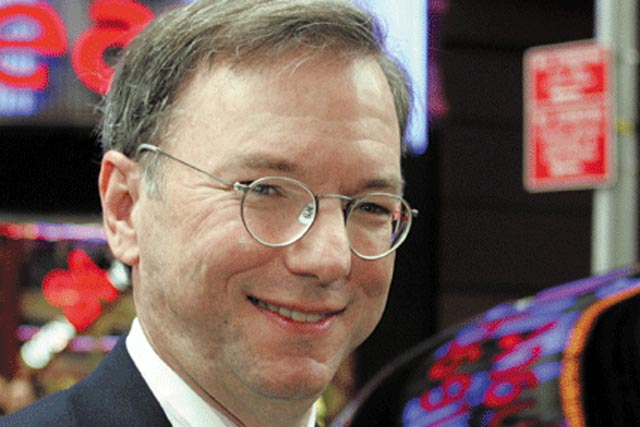 In his MacTaggart Lecture – the keynote speech of the three-day festival – Schmidt will discuss the unique role Google occupies across global media and how TV businesses can engage with it.
Last year's MacTaggart Lecture was given by BBC director general Mark Thompson.
Cox, a particle physicist, 'Wonders of the Universe' presenter and former D:Ream keyboardist, will deliver the Alternative MacTaggart Lecture and will offer his analysis of TV as an enduring medium, his own successes, and the meaning of the universe.
The Edinburgh International Television Festival, which is sponsored by MediaGuardian, is one of the key events on the TV calendar and is attended by more than 2,000 delegates from across the TV industry.
Among the programme specific sessions, the stars, producers and commissioners of ITV2's smash hit 'The Only Way is Essex', will talk about the role of fact and fiction and introducing vajazzling to the nation.
From the other end of ITV's schedule, the stars and creators of the period drama 'Downton Abbey' will look at show's popularity and "narrative structure" and preview the new series.
BBC comedy star Miranda Hart will give a masterclass on the creative process, former entertainment presenter Jim Davidson will discuss the changing nature of acceptability, and actress Sofie Gråbøl of Danish thriller 'The Killing' will discuss the success of the show and its jumpers.
In a special version of 'Family Fortunes' presented by Vernon Kaye, commissioning teams from the BBC, ITV, Channel 4 and Sky will compete to show their knowledge of TV audiences.
The festival has sessions with the major controllers in British TV, including: Danny Cohen, controller of BBC One; Peter Fincham, director of television at ITV; Jay Hunt, chief creative officer, Channel 4, and Stuart Murphy, director of programmes for Sky 1 HD, Sky 2, Pick TV and director of commissioning, Sky Entertainment.
Registration for the 2011 festival, which runs from 26 to 28 August, is now open and more information can be found here.