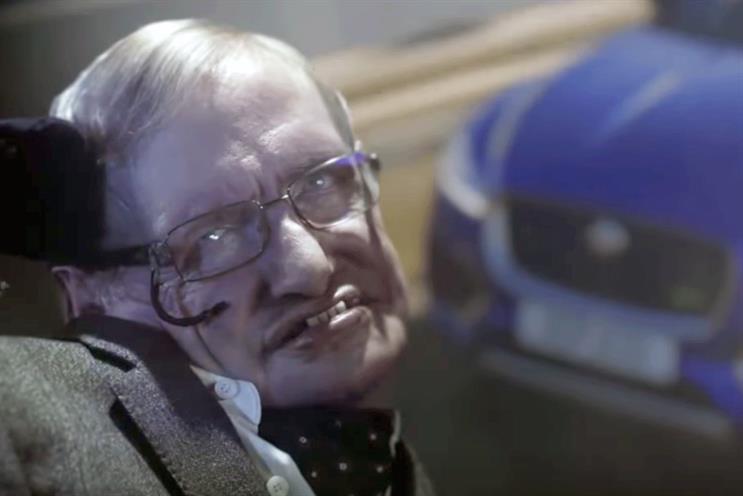 Professor Stephen Hawking turns villain for Jaguar
Professor Stephen Hawking, 74 has announced on his Facebook page that he plays the part of a villain in a new Jaguar ad.
"You all know me as Professor Stephen Hawking, the physicist wrestling with the great concepts of time and space. But there is another side to me that you may not know: Stephen Hawking the actor," Hawking posted.
"I have always wanted to be in a movie playing the part of a typical British villain. And now, thanks to Jaguar my wish has come true.
"I am proud to present the premiere of the launch commercial for Jaguar's first performance SUV, the new Jaguar F-PACE. -SH"


Amazon launches daily QVC-style fashion show
By some estimates, Amazon could be the No. 1 apparel seller in the US by next year. Now, it's unveiling a live daily show on Amazon.com to help push that initiative.
Called "Style Code Live," the free 30-minute video show will stream live on Amazon.com each weekday at 9 pm ET. The show will feature fashion and beauty tips and a live chat that the company says will allow viewers to communicate with the hosts.
The most Amazon-y piece of the experience, though, will be a product carousel showing viewers the stuff related to the show that they can purchase on Amazon.com. And you have to believe this feature is as much about awareness for Amazon's clothing-selling business as it is about making direct sales of stuff from the show.

Source: Recode
Council blocks James Bond projection onto Big Ben
He might have a license to kill but James Bond was thwarted by council officials after not getting the right permit to project 007's image onto Big Ben.
John Bercow had sanctioned plans by a PR agency to use the Elizabeth Tower to "celebrate Bond's London heritage" and the role of Parliament and the River Thames in the climax of Spectre.
Both feature heavily in the latest blockbuster movie in the franchise starring Daniel Craig.
But Westminster City Council refused Premier Public Relations Ltd permission for the project, ruling it is "wholly inappropriate" for images and advertisements to be projected onto historic buildings.
The plan had been for the lights on the east dial of the famous clock to be switched off to allow the Spectre logo to be projected on to it.

Source: The Sun
Catch up with some of our longer reads...
It's tempting (and useful) for marketers to put people in neat demographic boxes. But, as consumer lives become more fluid, age-agnostic and globally minded, is it time to put a stop to generational generalisations, asks Rebecca Coleman.
At a time when parenting is endlessly interrupted by digital communication and social media, brands must beware of exacerbating the pressure on women, writes Nicola Kemp.
If you watch one video today...
...hear what the public think of the Conservative government spending £5m to promote the new National Living Wage.