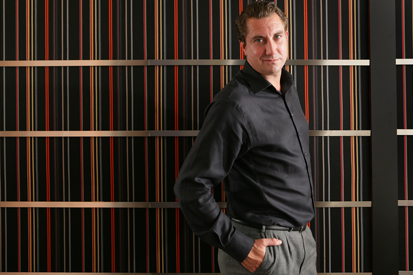 Simon Wallis, the stylishly attired sales and marketing director of Domino's, likes to think he is a dab hand at rustling up a pizza. Given his career history, he certainly should be.
His skills have been refined over the years in marketing roles at a series of fast-food chains including Pizza Hut, Papa John's and now Domino's, which he joined last month.
'I can make a perfect pizza in two-and-a-half minutes,' says Wallis, confidently.
'However, I have just been out in Las Vegas celebrating Domino's 50th birthday and the world's fastest pizza-maker was out there. He can make three in 39 seconds. I thought I was pretty quick ...'
Wallis, 38, has made a name for himself as a marketing heavy-hitter in the fast-food business - the go-to guy who helps raise a brand's profile and boost sales.
His arrival at Domino's has coincided with an initiative by the chain, which has had a UK presence for 25 years, to establish a firm footing in the lunchtime market with the roll-out of a sandwich menu.
Lunchtime invitation
Lunchtime business currently accounts for only 20% of Domino's sales in the UK, but Wallis hopes to whet the appetite of workers bored with the usual fodder of chilled sandwiches and jacket potatoes during their lunch hours.
'We have now launched our oven-baked subs, but not actively marketed them,' he says. 'Although the vast majority of our sales are in the evening, we believe there is massive headroom for growth during lunchtimes.'
The menu will include hot subs such as Cheese Steak Melt (cheese and herb sauce, steak, onions and mozzarella) and Nuclear Sub (cheese and herb sauce, mozzarella, tandoori chicken, onions and jalapenos).
The launch will be supported by a major marketing campaign, created by CHS Creative and running across TV, radio and online from this month; the ads will look to assuage any concerns that its sandwich offering may be too heavy.
Domino's has previously focused on high-profile broadcast sponsorship, and Wallis hopes the lunchtime menu will mirror the success of that activity.
The brand's decade-long tie-up with The Simpsons on Sky1, which began in 1998, has been widely credited with raising Domino's profile, and proved one of the most successful sponsorships in UK TV history, even being mentioned in the company's annual report. This was followed by Domino's three-year backing of ITV ratings-grabber Britain's Got Talent, which is now under review.
Such deals have helped drive growth and sales across Domino's franchises in the UK and Ireland. Sales rose 21% to £237m in the six months to 27 June. First half pre-tax profits increased 30% to £17.5m.
A significant contributor to the success of Domino's 584 UK outlets, according to observers, is that they have reaped the rewards of customers trading down to the chain from higher-priced restaurants during the recession. Steve Gotham, project director at market research company Allegra, says: 'Domino's has had a good few years. It has been aggressive in its marketing and quick in processing customer orders.'
Wallis is good company, prone to the occasional witty one-liner, and is not averse to ruffling a few feathers, risking offence to those he works with. He claims, for example, that switching from Papa John's to Domino's was 'like playing for Wrexham, then Liverpool coming along and asking you to join', and describes Domino's UK's launch of an app, which predates his appointment, as 'a bit late'.
'Domino's typically is at the forefront of technology, like its interactive ordering through Sky back in 2000. Most people had an app out about a year ago,' adds Wallis.
He goes on to note that Domino's UK trails the business in Australia, which now generates between 3% and 5% of its digital sales though its app.
Wallis has worked his way through several high-profile jobs, starting at United Biscuits, home to the McVitie's biscuits and snacks brand.
'I did a business studies degree at university. It was a vocational course,' he says. 'I quickly realised that I wanted to learn more about customer behaviour, that was why I got into it. Now, when interviewing people (for a job, I) try to understand the motivation of those wanting to join the company and quickly dismiss those who just think about the grander side of the business and making TV ads.'
Wallis then jumped ship to KFC - owned by the US fast-food giant Yum!, which also owns Taco Bell and Pizza Hut - to gain retail and advertising experience.
Yum! was a less corporate experience than United Biscuits, according to Wallis. 'These things are cyclical, but I probably joined the UK business when it was at arm's length. We didn't have to follow a global model. During this period we launched the "Soul food" campaign with Bartle Bogle Hegarty.'
KFC was followed by a switch to sister brand Pizza Hut, where his stand-out achievement was helping the restaurant chain bring itself back up to date. 'The brand looked tired, like an old-fashion cardigan - and you don't want an old cardigan when there are more exciting cardigans on the streets,' says Wallis.
Next, he joined rival Papa John's, starting as director of marketing and departing two years later as senior director of marketing.
At this point, one might imagine that Wallis would have had his fill of the fast-food market and, more specifically, of pizzas; but no. Wallis says he was made an offer he couldn't refuse by Domino's after a surreptitious meeting.
'I wasn't looking to move. I was pretty proud of the work I had done at Papa John's. I don't want to belittle Papa John's, but when a brand likes Domino's comes knocking it is difficult to turn down.'
His appointment coincided with the World Cup, where England's inept display affected Wallis both personally and commercially. 'I would have been happier if England got to the final, but while the World Cup is generally good for sales, more people go out to watch the games.'
Interestingly, he claims there was a spike in sales of Domino's pizzas in Scotland, as its natives celebrated England's footballing failure.
This will be a big year for Wallis as Domino's pushes into the crowded lunchtime market and bids to retain its crown as a digital trend-setter.
For his part, Wallis is adamant that he will be staying put for the long term and feels as though he has found a natural home. Besides - there are no other big pizza chains left for him to work at.
INSIDE WORK
1995-2000: Various roles, rising to group brand manager, United Biscuits
2000-2003: Marketing manager, KFC, Yum! Restaurants
2003-2008: Director of retail marketing, director of strategy and innovation, Pizza Hut, Yum! Restaurants
2008-2010: Senior director of marketing, UK and EMEA, Papa John's
2010-present: Sales and marketing director, Domino's Pizza
OUTSIDE WORK
Family: Married with two children
Favourite car: Ferrari (Magnum PI)
Favourite film: Fletch
Favourite food: Domino's Pepperoni Passion pizza.