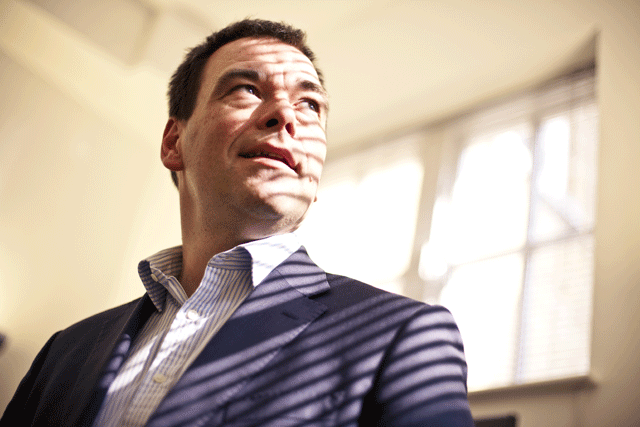 Kristof Fahy was cock-a-hoop after winning EUR400 on a long shot at last year's Prix de l'Arc de Triomphe horse race.
It seems apt that Fahy, group brand and marketing director at bookmaker William Hill, should have backed an outsider. This, he admits, is exactly how he felt when he swapped his years of riding the tech wave, with senior roles at Yahoo!, BlackBerry and Orange, for the perplexing world of dual forecasts, fixed odds and hedging.
He arrived at William Hill a racing novice, whose familiarity with bookies stretched only as far as his annual wager on the Grand National. 'When you join, you think: "This is interesting." Then you get your head around it and get used to it. In my previous jobs there was a symmetry to them. This was a big departure,' says Fahy, as we sit in his North London office.
Had Fahy been a creature of habit, he could probably have landed himself another senior job in technology - perhaps even one that quenched his thirst for a managing director role.
However, he was captivated by the nation's love affair with horse racing. Seeing William Hill cheek-by-jowl with the coffee shops and supermarkets on the nation's high streets lit a spark for Fahy. 'William Hill has 2377 shops and is the country's second-biggest retailer, in terms of units, behind the Co-op,' he points out.
Like any bookie worth his salt, Fahy is a man of stats, firing off facts and figures at several points during the interview, from 'our online sports book has grown 57%' to boasting that William Hill has 'a presence at 98% of all football matches'.
Although his intention is probably to come across as being on top of his game, at times it seems somewhat corporate, and even arrogant, particularly when Fahy appraises his own performance: 'Online now counts for 25% of revenue. We've done bloody well in this first year and I'll probably set myself harder targets for the future.'
Of course, William Hill would not want to employ a shrinking violet. The bookie faces challenging hurdles as it looks to stay ahead of traditional rivals such as Ladbrokes and online upstarts, such as Bet365.
Meanwhile, the debate over the future of betting shops continues to rage. Should brands keep their spit-and-sawdust outlets or opt for more contemporary cafe-style, women-friendly shops? Most have flirted with a more modern look, but the core punters continue to back the older format.
William Hill's branches do serve drinks, but more in the manner of school canteen than Starbucks. 'We get a lot of women in our shops already. For me it's about building on what we already have,' says Fahy. He adds that 'enhancing customer experience' is central to his remit.
This is an area in which the brand has fallen short in the past, he admits, but it is now modernising its approach. 'William Hill previously put the customer last. Now we are putting them at the centre,' he adds.
One example of this shift is that punters can now deposit cash in its shops and use it to bet online or, vice versa, if they win online, they can collect the cash in person.
Products such as its 'Shake a Bet' iPhone app have also been hits with the racing fraternity, says Fahy. 'People think a brand like ours is living in the past, but we are looking at integrating mobile, cashless payments. We have geniuses writing algorithms.'
William Hill has certainly come a long way since it was founded in 1934, when off-course bookmaking was illegal. Today it boasts revenues of more than £1bn and profits of £190m. This is despite the heavy regulation that led the company to shift its headquarters to Gibraltar in 2008.
There are particularly stringent rules on marketing. William Hill can advertise its core 'sportsbook' on TV only after 9pm, or during live sports events, such as FA Cup football coverage. However, there is greater flexibility over advertising some of its other revenue streams, such as bingo.
This adds up to a careful balancing act and constant testing of Fahy's marketing skills. 'It calls on all my patience when dealing with Clearcast,' he says of the body that pre-approves ads. 'We have to be very conscious about our approach, which means we don't ever behave like idiots.'
Fahy's schedule doesn't leave much time for tomfoolery anyway. A typical day is 'full-on', he explains as he opens the diary on his iPhone. Take last Tuesday: 'Breakfast with Yahoo!, then hook up with colleague in Tel Aviv, meeting with marketing team, followed by a final catch-up with direct reports. How about that for a day?' he says, obviously pleased to show off his packed calendar. 'I am back-to-back most weeks.'
Fahy is engaging company, knows his beans, is opinionated and can come off as self-deprecating and conceited by turns. Although he always likes to be in charge, he describes himself as an 'accidental careerist'. 'Opportunities have come my way, and have all turned out to be interesting. I met someone who had a career map once; I couldn't believe it. I don't have a plan,' he adds.
This does not seem to have held Fahy back. He spent seven years at Orange, in various senior marketing roles, with a brief 'to turn markets Orange'. Highlights at the mobile operator included orchestrating the 'on and off' campaign, which showed customers that goods things can happen when things are off, like making a mobile call when there is a New York power failure.
He then moved to BlackBerry as it was trying to widen its appeal beyond its core business users to the consumer audience.
His final post before joining William Hill last year was at Yahoo! where he was vice-president of marketing in Europe, before being promoted to oversee the brand's marketing outside the US. 'It was brilliant running campaigns from such diverse places as Brazil to Taiwan. Yahoo! is very respectful of local markets. It was always seen as a local brand first, US company second.'
Fahy may not have a career plan, but he is still ambitious. He sees himself one day heading a business, which ideally would be William Hill. Here, he seems to have found home, to the extent that he is now a regular betting man - three times a month, anyway.
He must now prove his commercial acumen. If he successfully leads the brand into new markets, such as Italy, then perhaps he could close in on the top seat in the executive boardroom.
Much will depend on how well William Hill does online and, to a lesser extent, the performance of a strapline that Fahy is talking to ad agency Beattie McGuinness Bungay about introducing, to run alongside its 'Home of betting' positioning.
Nonetheless, Fahy knows that one thing matters above all else. 'In terms of the cold reality of my day-to-day role, online and retail sales are up, and delivering winning numbers is the be-all and end-all.'
Inside work
1999-2006: Various roles including director of global brand communications and head of brand, planning and advertising, Orange UK
2006-2007: Brand marketing director, BlackBerry
2007-2010: Vice-president marketing, Yahoo! Europe, rising to vice-president of international marketing, Yahoo!
2010-present: Group brand and marketing director, William Hill
Outside work
Lives: Kingston upon Thames
Drives: Land Rover
Favourite apps: William Hill, Sky Sports and FIFA 2011
Favourite ads: Carling 'Mates', John Lewis