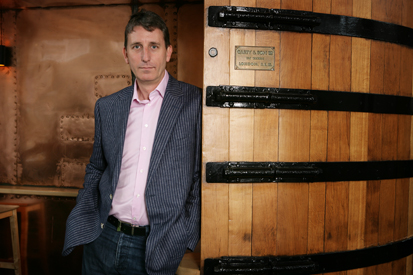 There may be heavy grey clouds over Southwold in Suffolk, the home of brewer Adnams, but Andy Wood's enthusiasm and belief in his brand, allied with his love of the town and wider region, shines through nonetheless.
Wood, who was promoted from managing director to chief executive in May, was born in South London, but is now happily ensconced in the East of England, dividing his time between a house in Norfolk and a flat outside Southwold. Amusingly, due to the weather on the day we meet, he feels the need to defend the climate of the region, pointing out that some areas have as little rainfall as Jerusalem.
Over a coffee in one of Adnams' chain of Cellar&Kitchen stores, which sell beer, wine, kitchenware and gifts, Wood reflects on the past few years' mixed fortunes for the business, which spans brewing, wine, pubs, hotels and retail.
Dedicated focus
The economic storm of recent years hit Adnams hard. Throughout 2006 and 2007 it had opened eight Cellar&Kitchen branches and just as they were starting to bed in, the financial crisis hit, consumer confidence plummeted and the pub trade collapsed, sending beer volume sales into free fall - along with the brewer's profits.
At the same time, however, Adnams has built a reputation for leading on the green agenda. While some brands turned away from this when the going got tough on the economic front, the brewer's dedication to sustainability remained strong.
Its initiatives are varied, but always meaningful - Adnams is one company that definitely could not be accused of greenwashing.
This year it announced the completion of the construction phase of a groundbreaking anaerobic digestion plant. This will be the first in the UK to use brewery and local food waste to produce renewable gas for injection into the national grid, as well as to fuel vehicles. Once it is fully operational, the plant will have the potential to reduce Adnams' carbon footprint by 30%.
The company has also invested in an environmentally efficient distribution centre with lime hemp walls and a sedum roof - resembling a giant Hobbit's dwelling - which keeps beer cool naturally.
Adnams launched East Green, the world's first carbon-neutral beer, in 2008, and the brand is going strong. Every stage in its production has been designed to minimise emissions, with any CO2 remaining being offset.
Wood takes an almost poetic turn when describing Adnams' dedication to this area. 'The reason we hold the environment dear is because just a few hundred yards over there,' he says, pointing in the direction of the beach, 'is the North Sea. Every day, we see it rise and fall. If there is a spring tide and that coincides with a high tide, potentially some of our pubs get flooded. We understand the elements and how the environment works. We think this is a critical issue for businesses to address, so we decided to make a stand on that.'
Despite the upfront costs of such initiatives, Wood says the board of directors has been 'incredibly supportive' during the recession and took a long-term view that there should be no retreat. 'While we were concerned, we were determined to continue to do the right thing,' he adds.
Wood likes to put all these activities under the banner of 'Doing things right'. If that sounds reminiscent of a certain high-street retailer's green pitch, that could be because Steven Sharp, the executive marketing director of Marks & Spencer, which has pioneered mainstream green marketing with its Plan A programme, is a non-executive director of Adnams.
Wood is critical, however, of the lack of incentives from government for other brands to follow Adnams' lead. 'More needs to be done to encourage business to adopt a similar approach to our own on the low-carbon agenda,' he says. 'We've done this off our own backs with little support.'
Business confidence is slowly returning after a hellish few years, to the point where Adnams is refocusing on its marketing activity. Earlier this year, the company appointed Dye Holloway Murray to its £2m integrated advertising account, reuniting Adnams with Dave Dye, the creative behind its award-winning 'Beer from the coast' campaign, launched in 2003.
Wood says that the new work, set to break this autumn, will again use illustration. However, to meet the demands of the ever-more inquisitive consumer, unlike the clean look of the last campaign, the ads will adopt the use of long copy to get its message across in a 'compelling' way.
'The brand has more complexity now,' says Wood. '"Beer from the coast" will always hold a special place in our hearts, but it is time for the brand to move on.'
As part of its drive to create a single, cohesive brand, this year Adnams has rolled out a fresh visual identity. Its beloved Southwold has now been built into its logo. The new look also uses a bespoke font called Boatbuilder. In typical Adnams fashion, this was created by a designer who drew inspiration by cycling round Suffolk to look at examples of local sign-writing.
Wood says the brand's essence can be defined as 'relaxation, refreshment and that "Ahh, that's better" moment.' What constitutes one of those? 'If you have been on the commute home from London and you're almost home and stop for a pint in your local, or if you go to one of our hotels, get a friendly greeting and the room is great. I have lots of these moments,' he laughs.
Wood, a youthful-looking 50-year-old, has worked at Adnams since 1994 in a range of marketing, customer service and general management roles. Throughout this time, he has seen the business take critical decisions about its direction and freely admits that some competitors think its expansionist ambitions are 'mad'.
Nonetheless, Adnams' growth into new areas shows no sign of abating: before the end of the year, it will roll out a range of gin and vodka, making it the first brewery and distillery located together in the UK.
While the company appears to have pulled through its darkest days, there remains a certain fragility to its recovery. While its full-year figures for 2009 provided a welcome boost, the statement for the first six months of 2010 showed that operating profit fell to £826,000 from £922,000 over the same period last year, a trend blamed largely on poor weather. Its cask ale sales volumes also fell over the same period, although not as steeply as in the industry as a whole. Nonetheless, while Adnams may not be entirely out of the woods yet, with such a motivated leader it is well-placed to meet the challenges ahead.
Inside work
1990-94: Various roles, rising to purchasing manager, Norwich Union
1994-present: Head of customer service, rising to chief executive,
Adnams
Outside work
Family: Wife and daughter
Leisure: Arthouse cinema, going to the gym, reading fiction
Last holiday: Venice
And another thing ...
Wood has a DBA (Doctorate of Business Administration) from Cranfield School of Management