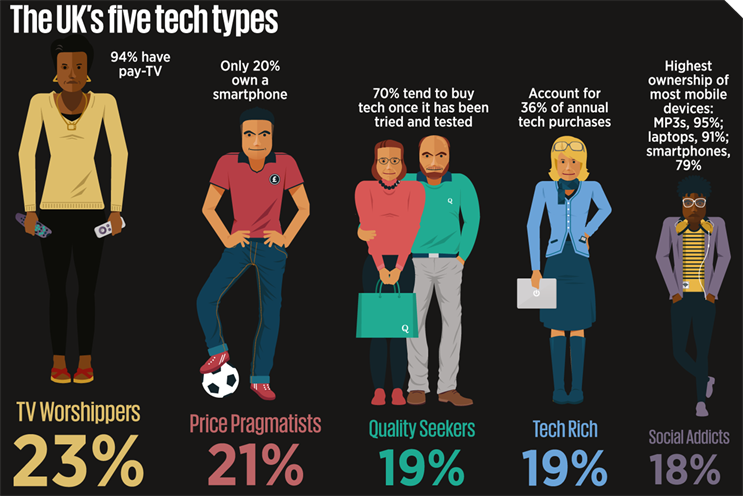 Tablets, mobiles and TVs are becoming increasingly central to our lives, with the annual expenditure on technology products in the UK having risen to more than £50 billion.
Technology advertising spend is also increasing, up 7.1 per cent to £1.5 billion in 2012.
The Tech Nation study, conducted by Kantar Media, divides the UK's population into five new groups based on ownership and lifestyle choices: TV Worshippers (23 per cent of adults); Price Pragmatists (21 per cent); Quality Seekers (19 per cent); Tech Rich (19 per cent); and Social Addicts (18 per cent).
Vanessa Clifford, the client services and strategy director at Newsworks, said: "Tech ownership has a direct bearing on media habits and this research reveals some interesting surprises. Age, earning power and class are not nec­essarily the best way of dis­tinguishing one group from another in today's complex media landscape."
The study used analysis of 24,000 TGI Clickstream panellists, combined with ethnographic and om­nibus research.
Find out which type you fall into by clicking image below

Tech Rich

Affluent high spenders –this group has the highest levels of tech ownership and account for more than a third of all technology spend in the UK. Most are male, although at 60 per cent, the bias is less pronounced than many preconceptions. And far from being the preserve of the young trend-setters, nearly three-quarters (70 per cent) are over 35.

Social Addicts

Constantly connected brand junkies. Mobile is essential to them with the highest ownership of most mobile devices: MP3s 95%, laptops 91%, games consoles 77%, smartphones 79%.

Price Pragmatists

The least likely to want new tech, only 37 per cent wish they had more, and happy to take lead from friends and family. Technology is functional, used to keep up to date, for information and for organising social life, tend to prefer print newspapers and read popular and mid-market titles.

Quality Seekers

Don't buy Tech very often but prepared to pay for quality items, when they actively seek guidance and demonstrations. They tend to be older and affluent and are more likely to have Freeview than pay TV, and to own more traditional, non-mobile items such as Hi-Fis (68 per cent) and desktop computer (78 per cent).

TV Worshipper

Tech purchases driven by entertainment needs, and family life revolves around TV. A staggering 94 per cent have Pay TV and 85 per cent a digital TV recorder. Mobile ownership very high (96 per cent ) but only 50 per cent have smartphone