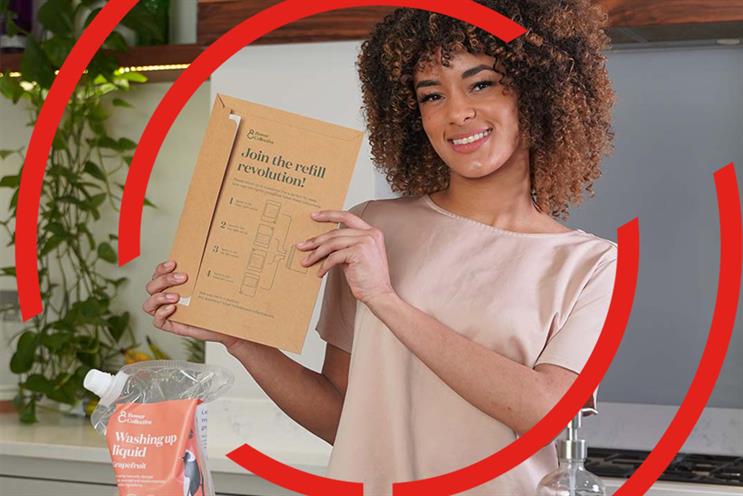 Bower Collective, a start-up with a mission to tackle the plastic waste crisis, was looking to optimise its retargeting marketing strategy to increase customer engagement online and drive conversion rates.
The company – which sells household and personal care products in plastic-free and reusable packaging, all sourced from a sustainable supply chain – is working to build Europe's leading sustainable consumer goods subscription business.
Making direct marketing more efficient
In light of this, it wanted to maximise the efficiency of its direct marketing and set out to do so by working with programmatic direct mail specialist, Paperplanes.
Abandoned dropouts have always been an issue for all e-commerce brands and businesses. On any day in UK e-commerce, an estimated 70% of baskets are abandoned due to a wide array of distractions or interruptions.
Programmatic has been game-changing
Previously, Bower Collective had used email to tackle this challenge. But while email performed well, it's fast approaching reaching saturation point. So, a game-changing extension of the brand's customer journey plan was developed.
Pilot activity for programmatic direct mail focused on triggering relevant, personalised, mailings to customers who either recently purchased and haven't been back since, or those who had recently browsed but not purchased. 
The decision to use programmatic direct mail was based on several factors: 
It is one of the most effective channels to use when personalisation and relevance can be ensured as it allows for messaging and creative concepts to be tailored to a target audience's specific needs and interests. 
It has become increasingly hard to achieve significant cut-through using more traditional retargeting methods such as email, SMS and social media. 
The physical tactile strength of direct mail, when combined with personalisation and data from digital, magnifies its positive impact.
Personalised communication to retarget customers
So programmatic direct mail offered Bower Collective a highly personalised and relevant communication channel to retarget customers, triggered by browsing behaviour, with creative concepts highly personalised around the specific products a customer had browsed. 
It is about getting the right incentives in front of the right people and understanding what is best geared around that individual customer's journey and online behaviour. This is all important for Bower Collective because it is on a mission to drive sustainability for consumers and utilising this form of investment in direct mail is about using data to drive efficient targeting of customers and seeing results generated off the back of that. 
- Daniel Dunn, founder and chief executive officer, Paperplanes
Measuring success
Bower Collective set itself two main, measurable objectives: to increase overall site traffic from the mailed universe and to improve conversion rates for its two prioritised groups.
Success would be measured by comparing the performance of the mailed universe with standard web browser sales and other forms of digital retargeting strategies. 
To achieve this, a personalised and relevant follow-up mailing was sent to customers who had browsed or had recently purchased an item but had not returned to the site since. 
Data science
This mail was triggered based on the customer's browsing behaviour, and creative concepts were developed that were highly personalised around the specific products that the customer had browsed.
"Everything starts by applying data science," says Dunn. "There is no static creative we start out with. Everything can be pieced together in accordance with the data we are seeing and what's right for individual customers."
Striking results
Mailed customers were twice as likely to convert – 7.6% compared with 3.7% for non-mailed customers. This indicated that the mailing campaigns had effectively increased the likelihood of customer conversion.
Through further efficiencies due to automation, cost per acquisition (CPA) was much lower than digital alternatives, too. This significantly improved cost efficiency, allowing Bower Collective to acquire customers more economically.
The success of the programmatic direct mail campaign proved to be more cost-effective than other digital retargeting strategies.
Additionally, the use of direct mail as a communication channel helped to establish a sense of trust and credibility with the target audience.
Paperplanes' tracking also provided other unique insights into website engagement. On average, customers were four times more likely to convert after receiving the automated mailing.
"The CPA rates Paperplanes have been able to achieve on the daily win-back flows and then through introducing abandon follow-up have been impressive and continue to decrease," says Toby Winch, Bower Collective's head of growth. "We look forward to introducing other cost-effective marketing flows on the channel that will drive further growth." 
Marketreach Insight:
Bower Collective's programmatic abandoned-basket mailing is yet another brilliant – and pioneering - example of how mail and digital work seamlessly together. It took the original online shopping experience that the customer was totally immersed in and put it directly into their home within 24 hours. And, in doing so, breathed new life into the contact strategy.
What makes programmatic mail so unique is that it blends the superpowers of mail with the speed associated with digital, to create a truly seamless customer experience. 
Firstly, mail is disruptive. In a world of increasing digital immersion and digital fatigue, a letter on the doormat stands out. JICMAIL data shows that 96% of all addressed mail is engaged with in some way and that the average item of direct mail receives a whopping 108 seconds of attention. As our recent bespoke TGI research showed - consumers are twice as likely to agree than disagree that they "pay more attention to something sent in the mail than something sent by email".
Secondly, people touch mail. It's a "brand in your hand". Neuroscience research shows that touch creates an emotional response – paper lights up the brain, making the information more tangible and memorable. This tactile experience fosters a deeper connection between the Bower Collective – an online store – and the customer.
Thirdly, mail makes people feel valued. The same TGI research showed that people are, again, twice as likely to agree than disagree that they "feel that brands that make the effort to write to me using mail value me as a customer". This lays the perfect groundwork for initiating a new and lasting relationship.
The output was a highly personalised, relevant mailing that smashed previous digital retargeting strategies.  
Who wouldn't buy into that?