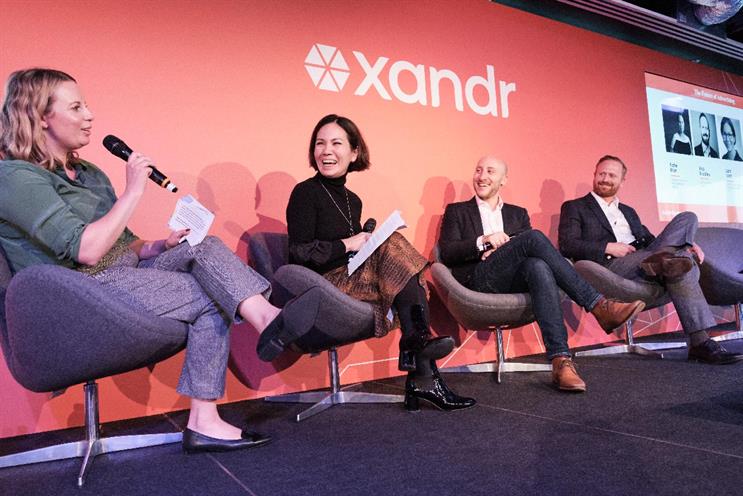 Such is the appetite to truly understand what is changing with video advertising and the technology around it, that it was standing-room only when Xandr, the advertising and analytics division of AT&T, brought experts together to discuss how to navigate the future convergence of digital and TV.
From a breakdown of advertising's latest jargon, like CTV and OTT, to best practices for how to win at video advertising now and in future, we've packaged up expert views into handy short films to guide you through the ever-changing programmatic landscape.
Atop one of London's tallest buildings, the view should be breathtakingly clear, but on the day of the Xandr Connect event, the city conformed to autumnal type – overcast. Despite the conditions outside, on the 42nd floor of London's "Cheesegrater", The Leadenhall Building, media experts brought clarity to the eternally vexing question of "what is the future of advertising?"
Connecting the dots
In the second wave of programmatic, it's not an easy one to answer, as digital techniques and TV 2.0 start to blend together.
With a growing convergence between digital and TV, Xandr has a pipeline of tools to simplify workflows and bring transparency to an area that is being radically reshaped by addressability.
Alive and kicking
While a clear opportunity exists within TV and video, the market has never been more fragmented and complex with consumers using multiple devices across multiple channels to consume content, said Katy Blair, director, account management at Xandr, who moderated the concluding panel of the event.
Confusing terminology doesn't help, noted Lara Izlan, director advertising data & analytics at ITV, "There's a slew of new technology that tries to capture the intersection between content, device and delivery mechanisms. There's more we can do to clarify that."
Rob Bradley, SVP ad sales at CNN, pointed out that advertisers had to get out of a TV mindset and think of video as a way to distribute content to consumers over different devices. "TV is still thought of as this box in the corner of the room but video can contact consumers wherever they are."
There is a misconception that TV is dead, added Vincent Soucaret, principal solutions consultant at Xandr, "We're just watching it in different ways and there are so many different screens that we are now using."
What digital taught us
In some ways, digital is only now beginning to deliver the promise that it made a decade ago, when programmatic was still "sellotaping stuff together," Bradley said.
"People are now fascinated by this programmatic technology linking up all screens and you're thinking about the full funnel. It's a completely different business than when programmatic launched 10 years ago and that true joining up of screens is going to empower brand-led businesses."
For media owners, the rapid adoption curve of smart TVs – from 5% in 2012 to 50% and growing – is forcing them to adapt, said Izlan. "It's not linear versus digital. We are headed towards a world where all TV and media will be addressable, so we need to start to think now about how we plan, buy, and optimise differently."
The insight loop
Advertisers should think of insight, measurement and outcomes as an iterative process, according to Bradley. Connected TV provides better quality data than ever and the ability to link to geo behaviour, for example, enables ever smarter decisions.
"That insight is incredibly important. We need to be able to go into a room and tell a business something they don't know about their business. We talk about 'real business insights to make real business decisions'."
Shift to the long term
While digital has traditionally been about immediate and measurable gains, the new blended approach, mixing in more TV, presents challenges and opportunities. A BRC study showed there is a 45% higher branded recall when a campaign is multi-platform, but one of the biggest challenges for programmatic in breaking into TV is how to measure performance.
"We're used to short-term ROI and immediate impact on conversions and optimisation," said Izlan. "It will be a challenge to adapt programmatic to a broader range of outcomes and longer horizons. It will be a travesty to force TV into short-term models and lose what makes TV and video great, which is helping brands achieve long-term business value as well as achieving short-term revenue targets. We need to get the balance right."
There is breathing space, according to Soucaret. Europe is running about three to four years behind the US in terms of a unified offering on connected TV, and this will only work if the process is simpler and a brand can spend all of its budget on one platform and target all screens.
"Unification can only happen if it's simplified. Yes, it's coming, but it might take a bit longer in Europe," he said.
This transition also presents a challenge in how media is traded. "In the short term we need to figure out how linear and digital are traded in a unified way, but ultimately it's about how we transition to new models that take advantage of full digitalisation," said Izlan. The multitude of models, whether advertising or subscription based, will keep the media landscape diverse and accessible, she added.
Whatever the future holds, change is in the air. With the continued proliferation of content and evolving viewer consumption habits, players across the advertising ecosystem need to keep scanning the horizon for ways to streamline workflows and bring consumers the best possible experience - no matter how, where or when they are consuming content.