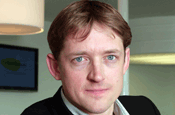 At the same time, Julian Hough, The Engine Group's business development director, will take the position of executive chairman of Altogether Digital, Engine's digital offering.

In his new role, Edwards will work closely with Debbie Klein, the joint chief executive, and Alison Wright, the strategy director, in developing the Engine business and building closer links between the group companies.

He will also take responsibility for new business.

Klein said: "Matt's been a great asset to WCRS. I'm delighted we can apply his skills across the Engine group."

Edwards added: "We now have an awesome array of people and expertise in the Engine building. My job is to make sure we deliver on our integrated promise for new and existing clients."

Hough, a founding partner of Engine, will now oversee the development of Altogether Digital. The agency formed last July when Engine merged its digital agencies DC Interact, Eyefall and Meme.

Edwards joined WCRS three years ago from Lowe. During that time, the agency has moved from 18th place in the Nielsen billings rankings to sixth, adding more than £100 million of new business.