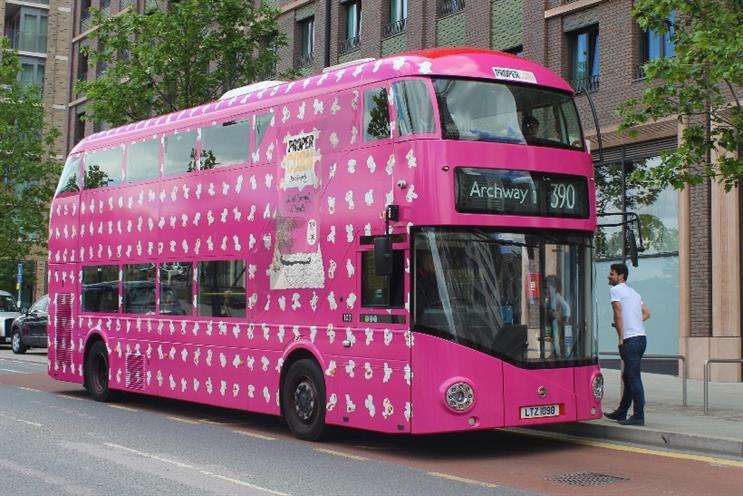 The four-year-old brand is already Google's favoured popcorn, and is Instagram fodder among millennials who are captivated by the brand's design aesthetic.
The brand sells itself as a healthy, more imaginative alternative to crisps, with the tagline: 'Popcorn done properly'. It's stocked in Waitrose, Tesco and Selfridges, as well as Google's staff kitchen.
Despite its target audience of 25- to 35-year-olds, Propercorn hasn't bothered funnelling any of its £1m campaign budget into digital channels, relying instead on its outdoor campaign and online word-of-mouth.
Propercorn's design chief, Becky Akers, told Marketing: "When we were designing our creative, people told us we needed a hashtag. But we said, actually, if you ask someone to hashtag, they're probably not going to."
The strategy seems to be working, since #propercorn has more than 10,000 posts on Instagram, plus a ream of ongoing tweets.
Fashion not FMCG
Akers believes this stems from Propercorn's package design, which she says is inspired by fashion and lifestyle brands rather than FMCG rivals.
Most of the Instagram posts from fans capture Propercorn's branded Routemaster buses around London, as well as branded billboards, buildings, pavements, phone boxes and streets in London.
Akers said: "We as a brand don't look to other FMCG brands for inspiration, we look to fashion and lifestyle and see ourselves in that realm."
Akers pointed to Propercorn's bright patterns, citing perfume brand Kenzo, designer Anya Hindmarch and luxury British designers House of Hackney as inspiration.
The campaign, she noted, doesn't feature the usual package close-ups, instead focusing on popcorn itself, which she describes as "a beautiful thing".
Knowing the brand
In another departure from the marketing norm, Propercorn has run the campaign in-house, rather than handing it out to an agency. The only exceptions were using M2M for the media buying, and a PR agency.
Akers said: "Every time we have outsourced something, we have found there's a disconnect. As we've grown as a company we have tried to keep everything in-house.
"In terms of knowing the brand, no one knows it better than us."
Propercorn's campaign will continue until the end of July, with new optical illusion installations being built this week in Brixton and Shoreditch.