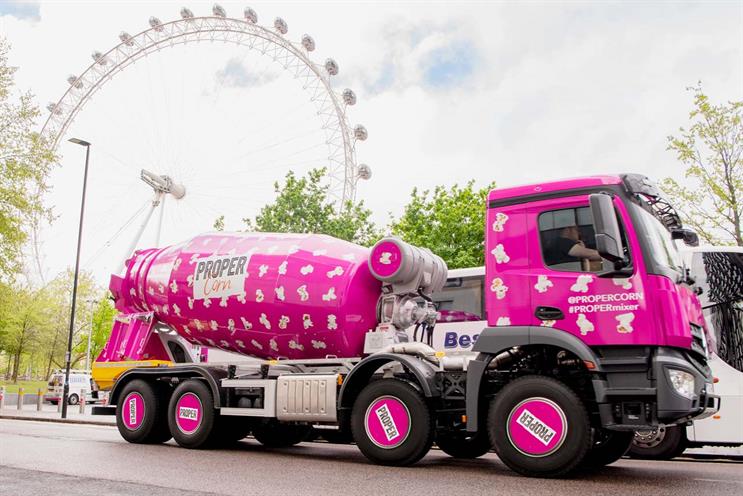 Popcorn brand Propercorn is touring the UK in a 33-foot pink cement mixer – dubbed the "Propermixer" – to distribute 150,000 packs of popcorn.
The tour, which is supported by events agency Bearded Kitten, kicked off in London on Friday and will visit Leeds, Manchester and Birmingham this week.
Propercorn's founder, Cassandra Stavrou, said the use of the cement mixer was a nod to the brand's origins. Inspired by Top Gear, Stavrou created her first batches of popcorn by using a car-spraying kit to coat the corn with oil, before tumbling them in a refashioned cement mixer.
"The humble cement mixer has become a real emblem for Propercorn and of the resourceful and creative approach we've taken since day one," Stavrou said.
"Since launching in 2011, we've seen unrivalled growth, transforming the healthy-snacking landscape both in the UK and across Europe. We couldn't think of a better way to celebrate our team's different way of thinking and continued passion for popcorn than with a nationwide road trip in the Propermixer."
During the tour, fans are encouraged to share photos of the Propermixer for the chance to win a year's supply of popcorn. They will also be able to make requests for the vehicle to stop in certain places via Instagram Stories' poll feature.
Meanwhile, Propercorn is set to launch its biggest digital campaign to date on YouTube with a CGI popcorn video, created by Weareseventeen, that launches this week. The brand said this is expected to deliver five million views. The media agency is Bountiful Cow.
The activity follows 2015's "Project pattern" campaign, in which the brand wrapped Routemaster buses and a range of other surfaces in its popcorn kernel pattern.