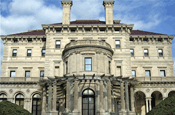 The campaign, created by Golley Slater, is set to break on Friday 24 October and will direct premium visitors to propertyfinder.com/premium, which focuses on properties worth more than £500,000.

The specially developed microsite will have a different look and feel to the main propertyfinder site.

The campaign will run across a number of national newspapers, including the Financial Times, The Sunday Times and The Guardian, as well as on websites including Tiscali and Yahoo!.

Each spot features a strapline, written in gold, that promotes the benefits of living in more luxurious properties.

These include "Some simply look for a 'pad'. Whilst others look for the helicopter variety" and "Sharing the tube is one thing. Sharing a front door is quite another."

Mip Phillips, the executive creative director at Golley Slater Digital, said: "We were looking to create a campaign that would sell in a different way, one that would show propertyfinder in a new light and appeal to a more exclusive set."