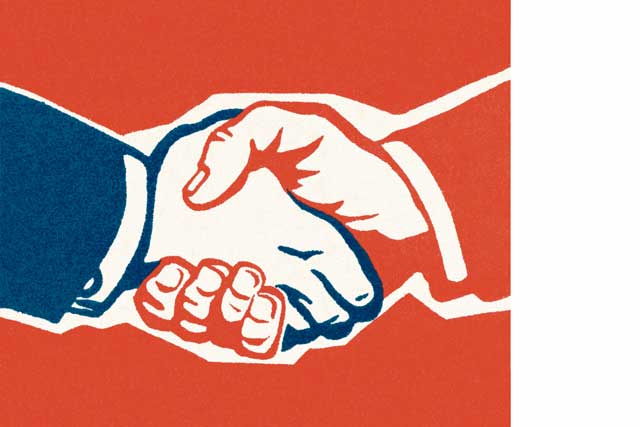 The new-business function doesn't always get the best write-up. From a client perspective, it can be viewed with the same disdain as the Fagin-like character who knocks on your door offering to tarmac your drive. From an agency perspective, it generally gets bugger-all thanks when a pitch is won and a verbal thrashing when there are not enough prospects in the pipeline. However, an event at the Tea Building in East London last week suggested attitudes might be starting to change.
The evening was organised by an enterprising new-business professional, Karla Morales-Lee, who, with her business partner, Sarah Bradley, has founded the "Art of New Business". This is intended to be a series of events aiming to elevate the stature and importance of new-business professionals and be a force for good in terms of best practice and case studies.
Phil Rumbol talked passionately about the difference between marketing and selling; marketing being the creation of demand, selling being the converting of that demand. And as a gamekeeper turned poacher, he was able to report that, when at Cadbury, too much of what he received fell into the "selling" camp, leading it to be filed in the bin under his desk. Indeed, research by Morales-Lee and Bradley suggests that 60 per cent of marketing directors see cold-calling as an impediment to doing their job.
David Wethey, the Agency Assessments founder, focused more on the pitch process. He is convinced the way in which agencies pitch is wrong and, looking at the stats he dished out, it's hard to argue. According to research by the IPA and ISBA for thegoodpitch.com, the average spend on a pitch is £178,000 (time and third-party costs) and 80 per cent of winning creative work is binned, as is 100 per cent of losing pitch work (until it's retrieved and thrown back into the next pitch). His point was that relationships are key to the success or failure of an agency/client relationship, yet there is not enough emphasis on this in the pitch process.
When Malcolm Gladwell sat at his typewriter and wrote the chapter on connectors in The Tipping Point, he must have just finished a slap-up lunch with the final speaker, Matt Bird. Bird runs a consultancy dedicated entirely to improving the quality of relationships and his key take-out was that you should be nice to and interested in everyone you meet, as it is increasingly important to not only build deep relationships with key people, but also develop weak ties with a much broader group.
The evening ended with a panel run by Helen Weisinger with Kerry Glazer, Jules Griffith, Jon Evans and Steve Kershaw in which it was agreed that: (a) agencies are still very poor at genuinely differentiating themselves; (b) agencies need to say no to new-business approaches more than they say yes; and (c) agencies need to be far more focused on what business they actually want than what they've just spotted on the front page of Campaign.
Glazer said that she frequently gets calls from agencies pleading to get on a pitchlist because "they've always wanted to work on brand x". When she politely enquires when they last had contact with said brand, the answer is frequently "never", which somewhat dilutes the agency's claimed passion.
For me, there were two key themes overall. First, new business is a long game. If you want to work with a particular client, it's highly unlikely to take less than two years to make that happen. Bird referred to an account he had won after ten years of gentle nudging.
The reason it takes so long is the importance of relationships. Most marriages are preceded by a significant period of courting that includes meeting the parents, critically assessing each other's music collection and maybe even living together. In adland, client/agency marriages usually resemble an Elvis-themed shotgun wedding at Cupid's Chapel in Las Vegas. And then we're surprised when the client pitches again in two years.
As agency bosses, we need to start saying no more often, stop ambulance-chasing and instead be thinking now about the piece of business we would like to welcome through the doors in two years, not two weeks.
The second thought is about the role of the new-business professional.
All too often, the job of new-business director is given to someone for a reasonably short period of time as compensation for having worked on that global floor-cleaning account based in Kiev for three years. But if we believe the relationships and business leads wanted by agencies take at least two years to convert, then surely there is a case for a new breed of new-business professionals who don't see the job as a stepping stone but as a career choice. After all, the best new-business people have the best access to senior management, have a huge amount of variety in their role and get to be involved in every aspect of agency life, which should make it very appealing as a career.
Weisinger, one of the few new-business careerists, finished off the evening by reminding us that, as agencies, we can't make a piece of business move, but we can do a huge amount to ensure we're at the front of the queue when it does.
Initiatives such as these can only help create a better breed of new-business professionals to make that happen. So, when that bloke comes round about tarmacking your drive, direct him to the next Art of New Business event.
Toby Horry is the managing director of Dare.