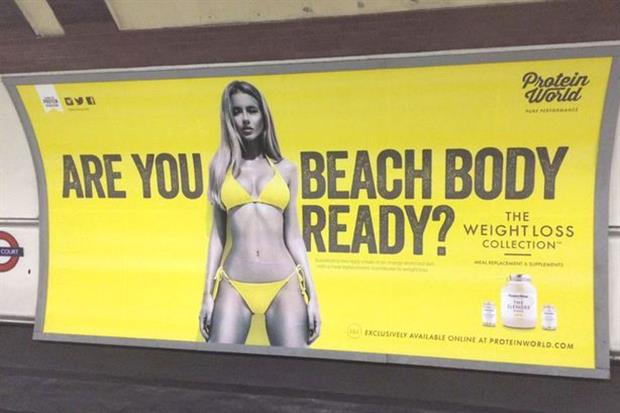 We asked readers whether or not they were offended by the ad, which has achieved notoriety in part due to a campaign against its perceived pressure on women to have a perfect 'beach ready' body and in part due to the brand's aggressive response.

Their verdict comes as the Advertising Standards Authority considers whether the creative breaks harm and offence rules or is socially irresponsible, having already ordered it to be pulled for making misleading health claims two days ago.

Some 15% of Marketing readers said they were offended by the ad and 85% said they were not. Despite readers voting otherwise, the minority echoes the strength of feeling that has seen over 67,000 people sign an online petition calling for the ad to be removed.
We also took to the streets of London to find out what people were thinking about the ad. We asked them if they thought it was sexist and despite some not being offended by the ad or even liking it, few could argue that the ad wasn't sexist.
The talking point has led other brands to seek currency by acknowledging the controversy, although an image of a Dove version of the ad that has been circulating online was disowned by the skincare brand.
The image is in keeping with Dove's inclusive message on body shape and a Dove spokesperson said: "The ad was not created by Dove but we do believe that every woman is beach body ready!"
Two brands that have authored their own versions were a US retailer of swimsuits for plus-size women, Swimsuitsforall, and UK lager brand Carlsberg.
Are you ready for this beach body? We are. All bodies are #BeachBodyReady #CurvesInBikinis #SwimSexy @theashleygraham pic.twitter.com/DjwGnJV36I

— swimsuitsforall (@swimsuitsforall) April 29, 2015
Amid the controversy and media attention online searches for the brand have surged to their highest-ever level, according to Google keyword trends data:


The surge comes after a general increase in interest in protein, which was marked in March by the addition of protein shakes to the basket of goods and services used to measure inflation:


Rival brand MyProtein, which has been buying Google Adwords against the term 'Protein World', has also benefitted from online search interest:


However, the ASA's reaction to the ad promises to put the spotlight on the health claims made in the category, while the Google trends data shows searches for Protein World have been decreasing in volume since midweek.