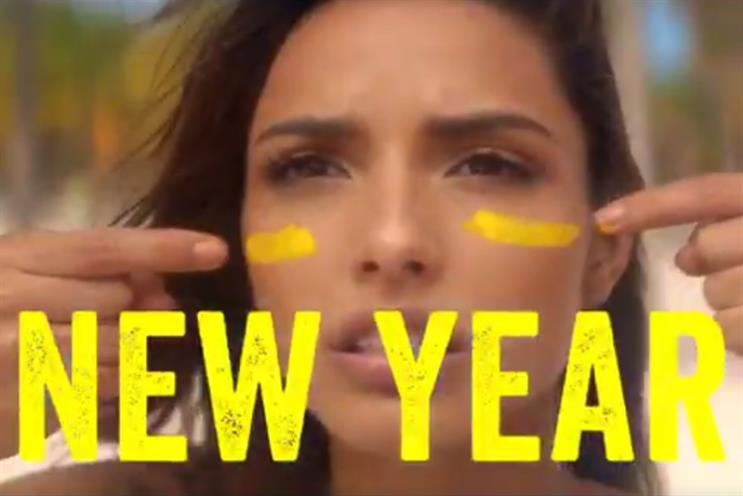 Seth's social media posts mark his direct involvement with the ad, as well as his playboy living, with a production style and lifestyle that share striking similarities.
The brand's TV ad is a moving version of its initial poster work. It features a pumping dance track punctuating flashes of toned female flesh, as women exercise on the beach. "New year, new you," states on-screen copy. The ad is running in the UK, US, France and Germany.
TV Campaign launching in UK,USA,FRANCE and GERMANY 2016 ???????? #ProteinWorld #WorldTakeOver pic.twitter.com/HAxSXXbNNm

— Arjun Seth (@arjun_seth) January 3, 2016

Protein World's approach to marketing inadvertently recalls an exchange in the classic rockumentary film 'Spinal Tap', during which the band is accused of producing a sexist album cover. "What's wrong with being sexy?" asks the bemused lead guitarist.
Seth was apparently heavily involved ad's production, judging by his Instagram selfies with the yellow bikini-clad models. "Haha living the dream!" responded one of his followers.
But Seth's laddish persona perhaps belies a more sensitive side to the man. In one post he states philosophically "Life is all about #Family and #Friends":
The ad will inevitably provoke, with Protein World claiming its last controversial campaign generated an extra £2m in sales.
At the tail-end of last year, Seth promoted a teaser of the TV ad on his Instagram feed. It only hinted at the sophistication of the full-length piece.
Brand: Protein World
Agency: In-house