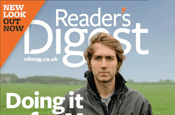 The initial brief given to Proximity will be to create a product-led direct mail campaign to raise the magazine's profile and attract new subscribers. There was no incumbent on the account.

Reader's Digest's relaunch is its first major revamp in more than 20 years and has been led by the magazine's recently appointed editor-in-chief, Sarah Sands.

The magazine now includes a number of new sections and will focus more heavily on content created in-house, rather than editorial sourced from third-party publications.

A number of high-profile names, including Nigella Lawson and Imogen Stubbs, have been lined up to contribute the new content.

Reader's Digest is currently one of the biggest consumer magazines in the world. Its average UK monthly circulation is 635,000.

Chris Spratling, the managing director at Reader's Digest, said: "Reader's Digest is going through an exciting period of re-invention.

"We look forward to a productive working relationship with Proximity London during this exciting time."