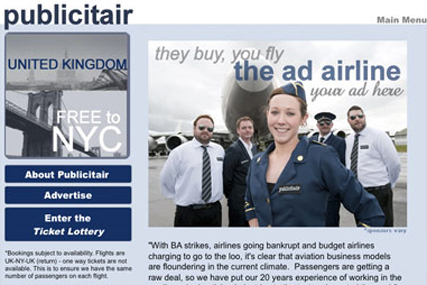 Funded entirely by advertising, Publicitair (www.publicitair.com) is offering passengers the chance to book free return flights from London to New York.
The airline, which aims to turn a profit by selling space on its planes and services to advertisers, is billing itself as the world's free airline.
Publicitair hopes to fund the flights with branding from Red Bull on plane wings, cabin crew sporting 118 118 runner costumes and GoCompare ads playing over the on-board announcement system.
It is also selling ads during in-flight movies and is in talks with Admiral Insurance over hiring its brand spokesman to make safety announcements.
The airline is the brainchild of the digital marketing agency Renegade Media and launches today (1 April).