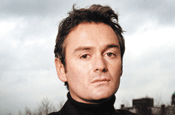 He will report to Richard Pinder, the chief operating officer of Publicis Worldwide. Pinder continues as chief executive of the UK group of companies in addition to his international duties.
Simpson joins later this month and will work closely with Nik Studzinski, the executive creative director, and Kym Douglas, the executive planning director, in running the agency.
Publicis has been without a leader since Grant Duncan, the previous UK chief executive, left in March. Tim Lindsay, the UK group chairman, departed two months later.
Pinder said: "We needed somebody who could hit the ground running and add some momentum. Neil's experience on both sides of the fence and his eye for good creative are just what the agency needs."
Simpson added: "There is a lot of talent and strength there, I think they just need some confidence back. There is no reason why we can't be the most creative of the multinational agencies in London."
Simpson began his career at Ogilvy & Mather. He joined Coca-Cola in 1993 as European advertising director before moving to Adidas as a senior vice president. In 2002, he became the global marketing communications director for Vodafone, a position he left in 2006 to set up his own business.