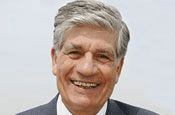 Profits were reduced by higher interest payments on the increased debt the company is shouldering after its €1.3bn acquisition of Digitas early last year.
In the last quarter of the year, Publicis reported a 4% rise in revenues to €1.3bn, increasing its full-year revenues by 6.5% to €4.67bn. It did not provide a profit figure for the fourth quarter.
The group bemoaned strength of the Euro, claiming its full-year revenue growth would have been up 11.4% if exchange rates had remained at last year's levels.
Levy said the group's 2007 organic growth figure of 3.1% was "insufficient", but claimed its "radical shift towards digital" would give it the strength in the coming year to cope with "macroeconomic difficulties".
Levy said: "In terms of staking out new positions, we are better armed and better equipped than our main competitors."
The share of advertising in the group's revenue mix has fallen to below 40% from 55% in 2004, while the share of marketing services and digital has climbed to 36% from 23%.