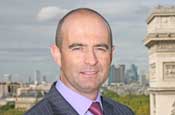 The move sees the digital group being brought under one management structure alongside Publicis Dialog.
The group will be run by Martin Reidy, the former president of Modem Media, who will take up the position of chief executive of Publicis Modem and Publicis Dialog.
He will report into Richard Pinder, the chief operating officer of Publicis.
At the same time, the digital agency Modem Media London is re-branding as Digitas London.
The re-named agency will retain its senior management and all of its clients apart from its HP business, which will be handled globally by the newly created Publicis Modem.
Olivier Fleurot, the executive chairman of Publicis, said: "This move will help us to create more innovative solutions for our clients. The demand for on-line services is growing rapidly and this move confirms our commitment to strengthening our capabilities in the digital world. We are very happy to welcome our Modem Media colleagues into the
Publicis family."