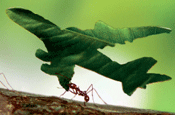 Using the strapline "see the bigger picture", the print campaign features the shape of the aeroplane, created using images created from the natural environment, in a bid to help downplay its environmental impact.

In one ad, the plane's shape is created by a gap in the trees, while another shows ants carrying aeroplane-shaped leaves.

The campaign, which is supported by online elements, was first shown at the Farnborough Airshow last month.




Project A380 - see the bigger picture
Client Eugenie Torrente, head of advertising, Airbus
Brief Reinforce Airbus' leadership on environment matters (in its market)
Creative agency Publicis London
Writer Paul Quarry
Art director Paul Burch
Planner John Crowther
Media agency PHD
Media planner Simon Robinson
Photographers Peter Lilja, Chad Henning,?Eastcott/Momatiuk and Rosemary Calvert
Retouching companies First Base, Act Two
Exposure Press, outdoor, online