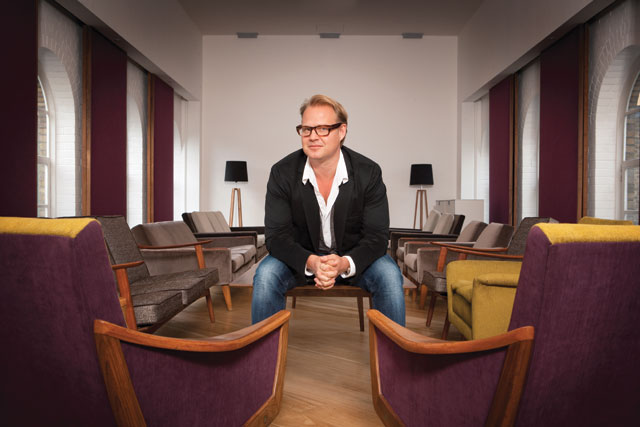 Last Thursday, Publicis Groupe announced a £333 million deal to acquire the digital agency network LBi, which has clients including Johnson & Johnson and Coca-Cola and 32 offices around the world. LBi, which employs 630 people at its London agency and is owned by its management team and private equity companies, also held talks with other ad groups including Omnicom. Here, Luke Taylor, the chief executive of LBi, explains why Publicis represented the best deal and what the future holds for his agency.
Why was Publicis the best option for LBi?
Of all the holding companies, Publicis Groupe has the most confident and emphatic belief in the importance of digital. The best evidence of this lies in the world-class pure-play digital brands it has acquired over recent years. With Digitas, Razorfish and Rosetta already in the family, the proposed acquisition of LBi will enable Publicis to increase its share of revenue derived from digital to 35 per cent. We look forward to sharing and competing with our new colleagues.
How will the deal improve the business?
Becoming part of Publicis provides us with a unique opportunity to pace-set the market and activate new geographies and marketing services so that we can accelerate our plans to provide clients with a globally integrated offering. We are particularly consumed by the opportunity to converge bought, owned and earned media thinking and integrate creative innovation and new tools and IP into a better blended mix. This will allow us to target more ambitious client engagements around the world. We will also be able to harness a wealth of Publicis skills, processes and technologies that will enable us to launch a broader range of services in Asia and Latin America.
What is the secret of LBi's success? How has it become such a valuable asset?
We have been relentlessly focused on creating a single brand platform and eradicating local market politics. As a management team, we constantly beat ourselves up and restlessly look to drive improvement and reinvention.
LBi has an interesting history, but are you able to identify an important turning point?
Installing a new global management team in 2008 allowed us to move from a federalist approach, where individual countries pursued their own service model and proprietary vision, to a proactively integrated model based on a single vision, single brand, consistent service model and shared organisational design. This required a more interventionist management style focused on driving quality, creativity, innovation and collaboration across offices so we can service global clients more effectively.
What recent work for clients are you most proud of?
We are currently in the process of leading Johnson & Johnson on a global journey of digital transformation. We service a total of 15 J&J brands across four continents, making it one of our broadest client engagements. I'm particularly proud of our ability to consistently deliver a best-in-class blend of digital, social and CRM capability across multiple geographies for multiple brands. Few agencies are able to optimise value for global clients on this scale. We also recently launched Xperia Studio to promote Sony's Xperia range of smartphones. The project centres on an ongoing series of groundbreaking films that showcase the possibilities of Xperia phones and give the brand a constant presence in people's online conversations. We've just completed The Random Adventures of Brandon Generator in partnership with 3 Monkeys to celebrate the creative potential of Microsoft Internet Explorer 9. With the scriptwriter Edgar Wright and the graphic designer Tommy Lee Edwards, we created a digital graphic novel that gives the user the power to shape a noir-inspired series of four interactive, online episodes.
Where do you see growth coming for LBi - both geographically and in terms of service?
Asia-Pacific holds the most potential for incremental revenue growth. We have just appointed Roy Capon as the chief executive for the region with a remit to capitalise on this. Roy will be responsible for developing our Asia- Pacific footprint,which currently spans 200 people in Mumbai, Delhi, Dubai, Beijing and Sydney, as well as opening new LBi offices in Shanghai and Singapore. We expect this geographic growth to be coupled with an increase in demand for our converged media planning function, which combines bought, owned and earned media into a single, coherent client offering. We also expect brand owners to place increasing emphasis on our Audience Engagement Platform, proprietary technology that enables the management, workflow, distribution, measurement and optimisation of content in virtually any form, across multiple content platforms, globally.
How committed are you and the LBi management team to remaining with the agency and driving the business?
One of the principal reasons that we chose to become part Publicis is its strong belief in the ability of LBi's global management team to continue to develop the business. All members of the management board have agreed to stay on in their respective roles after completion of the offer and remain committed to driving the business forward into the next exciting stage of its development.
Why has adland gone acquisition crazy? Bob Willott considers the wave of recent advertising deals.
At a time when we're told the European economy is on its uppers and cash is in short supply, we could be forgiven for wondering why the marcoms industry seems to have gone deal crazy.
The Publicis £333 million cash offer for LBi last week was just the latest in a line of acquisitions that have hit industry headlines. In June, WPP paid £343 million to buy AKQA, founded by Ajaz Ahmed. Then Dentsu agreed to pay £3.2 billion in cash to acquire Aegis.
There have been lots of smaller deals too. Porta Communications is buying the Tunbridge Wells agency WFCA. Omnicom has snapped up Adam & Eve. Publicis bought out the rest of Bartle Bogle Hegarty that it did not already own. Ebiquity bought Firm Decisions ASJP, while WPP swallowed Fortune Cookie (UK). Inferno acquired Quiet Storm, CHI & Partners came to the rescue of Rapier and The Mission Marketing Group has just acquired Addiction Worldwide.
Most companies have been conserving cash in the face of the continuing economic uncertainties. At the same time, those economic uncertainties have depressed company valuations. So anyone wanting to sell a strong company will probably prefer to wait until the climate improves and company valuations improve with it. But some companies have to be sold and their buyers may believe they can negotiate a comparatively favourable price, benefiting from any future upturn.
For example, private equity investors normally seek to sell their shareholdings within five years for internal reasons, and that may have been a significant factor in the sale of AKQA and LBi. Only a few global groups have the financial muscle to do such big deals at the present time. WPP and Publicis are the obvious examples.
By contrast, some of the smaller companies that have changed hands may be in a certain amount of distress and need a safe haven at almost any price. Quiet Storm and Rapier come to mind.
Bob Willott is the editor of Marketing Services Financial Intelligence
LBi: THE DEALS BEHIND THE BIG DEAL
2001: Swedish agency Icon Media Lab merges with Dutch outfit Lost Boys to create LB Icon
2004: LB Icon acquires rival digital shop Wheel
2006: LB Icon merges with Framfab to create LBi
2008: LBi makes its first acquisitions since the merger with Framfab by swooping for Syrup and Special Ops
2010: The agency merges with Big Mouth Media in a £46 million deal
2011: LBi acquires US-based social media and youth marketing agency Mr Youth in a deal worth up to $50 million.