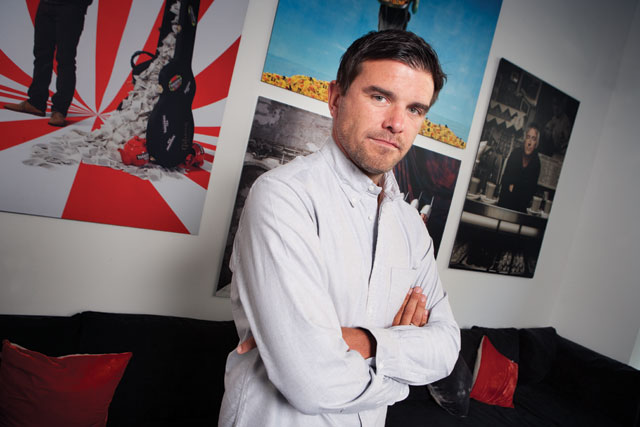 As long waits go, the delay in Tony Quinn joining Publicis as its executive planning director is only equalled by the protracted time the agency is taking to produce its first Confused.com ad that will hopefully put an end to the infuriating "Cara". Fortunately, Publicis has been rather luckier with the speed in which it managed to install its new executive creative director.
The announcement that Andy Bird was joining the agency from Ogilvy & Mather in March was so swift and unexpected that it led to the departure of Adam Kean, who had been running the department on his own since the departure of Tom Ewart to The Corner last year, that same week.
Despite also joining from a WPP agency (sticklers for ensuring departing staff adhere to the letter of their contracts), Bird has only had to wait a relatively painless four months to take up his new post - a happy fortuity, he explains, of his rather more liberal contract than Quinn's. Quinn, of course, has been unable to earn a living from his trade due to the stringent nature of his contract with JWT, but he is set to join, we are promised, next month.
The hire was also rather surprising for a variety of reasons, not least that Bird was a designer by trade (he was the head of design at Butterfield Day Devito Hockney and Bartle Bogle Hegarty) before changing codes and that there were a number of more obvious existing executive creative directors on the job market at the time.
So why didn't the Publicis chief executive, Karen Buchanan, choose one of the more famous ECDs? She says that Bird's track record and experience of leading creativity at both big network agencies and independent hotshops (Bird was a co-founder of Soul Advertising) helped make her mind up. "He has real hunger and ambition and, as a result, is able to inspire both great work and all the people around him. For him, it's only ever about the work and delivering the very best across the board," she says. It's also likely that his time at O&M running Unilever's global Dove business will have been a factor, given Publicis' strong dependency on Procter & Gamble.
There's little doubt that Publicis could do with an injection of creative adrenalin. Bird is far too smart to criticise any of his predecessors (in fact, he doesn't seem that willing to disclose much at all), but acknowledges that the agency has "been quiet" since Ewart left. He says that his focus, so far, has been on getting out to see clients. "You can't get good work out of them unless you know them," he says.
And what will the clients make of him? Well, he is easy-going, genial and very popular. One former colleague describes him as "one of the loveliest men in advertising".
But those who subscribe to the "you've got to be a bastard to get on" school of agency management see this as potentially one of his problems. "He cares about quality, but I can't imagine him having a stand-up row for the quality of the work. He's not a natural forceful leader of men," one ex-colleague says. "He's the sort of person you'd want in your creative department, but not necessarily running it."
Others are more generous and say his collegiate approach and gentle nature may encourage people to want to work with him. Nick Gill, Bird's former partner at BBH with whom he worked on Levi's, describes him as a "great art director". "He knows his craft. People love working with him because you get what you see," he adds.
"He thinks he's fucking cool," Russell Ramsey, the executive creative director of JWT London and a former colleague at BBH, counters. "He thinks he's a fashionista - he carries a man-bag that is so feminine that people have mistaken it for a women's bag."
There seems to be an overriding groundswell of goodwill towards Bird and his first ECD job. Ramsey, while one of those who confesses to being surprised with his appointment, is confident that he will rise to the challenge now that his name is in the spotlight. "He'll grasp it and get on with it," he says.
Bird himself says one of his first tasks, once the round of client visits is complete, will be to instil some much-needed confidence and youth in the creative department.
With Bird now in place and Quinn's arrival imminent, it finally looks like there will be stability at Publicis, which has been run single-handedly by Buchanan for the past few months. Key to its future success is the nature of the chemistry between the three principals, which will be interesting to watch.
And, equally interestingly, for Cara and Publicis' long-awaited debut work for Confused.com, Bird promises that something is in the pipeline.
THE LOWDOWN
I got into advertising ...
via a Youth Training Scheme in 1986 for kids without enough qualifications to get into art school. The second year was a placement at an ad agency. So I am eternally grateful to Thatcher.
The thing I'm most excited about my new job is ...
the great opportunity at Publicis to reinvigorate the creative offering and forge a great partnership with Karen and Tony. And the new building has great disabled toilets (posh loos).
I am most passionate about ...
The Magpies, the Central Line, the wife and the kids, Abstract Expressionism and making sure we have a laugh.
I describe myself as ...
really quite pernickety.
If I wasn't in advertising ...
I shudder to think.