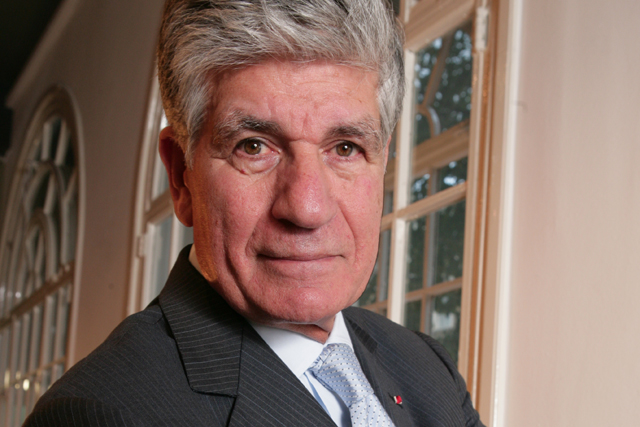 According to the group's first half results, out this morning (21 July), revenue totalled €1,413m in the three months to 31 June, a rise of 2.7% year on year, but representing organic growth of 7.6%.
Pre-tax income of consolidated companies, which include ad network Saatchi & Saatchi and media network Starcom MediaVest, was €321m in the six months to the end of June, up 3.2% from the €311m generated in the first six months of 2010.
Operating income was €349m, a rise of 1.1% year on year, while net income attributable to the group was €241m in the first half, representing a rise of 8.5% year on year.

Publicis Groupe said there were "improvements" in the UK, where revenue rose by 3% year on year, and Europe achieved "remarkable growth, given the very different situations of certain countries".

There was strong growth in France (11.9%), Germany (more than 10%), Italy (7.7%) and the central European countries (9.1%, with Russia exceeding 20%), but "very negative growth in Greece and Portugal".
Operating margin (which Publicis defines as revenue less personnel expenses, other operating expenses, depreciation and amortization – i.e. operating profit in many companies) was €364m in the six months to 30 June, down 1.4% year on year.
Maurice Lévy, chairman and chief executive of Publicis Groupe, said: "Organic growth has risen to an excellent 7.6%, bringing overall growth in this half to 7.1%, exceeding our forecasts. This confirms the validity of our strategic choices.

"In order to fuel the Groupe's goal of boosting internet-related and digital work to take a dominant share of our activity, this first half has been rich in acquisitions. They notably include Rosetta and Big Fuel, a little golden nugget in terms of social media."
Among its acquisitions, Publicis said it had strengthened its presence in the UK in interactive communications and public relations through the acquisitions of Chemistry, Airlock, Holler and Kittcat Nohr.
Lévy said: "Overall, all our acquisitions, whatever their size, share a number of qualities. They are particularly creative, their skills are widely recognized in their market, and they will be key elements for the growth of our networks.

"Clearly, in order to accelerate our profitable development, we will need to give priority to investment and to talent, particularly after two years of a salary and hiring freeze. This is in line with our announcement in February 2011."
Investment bank Liberum downgraded its recommendation for Publicis Groupe shares, from buy to hold, and advised investors to buy stakes in rival group WPP instead.

Liberum said Publicis reported "disappointing" H1 results mainly because of the miss on profits. Operating profits fell 1.4% year on year in the first half of 2011 to €364m, compared to Liberum-expected €414m and a market consensus of €400m to €405m.

Although the case given was investment in personnel and operating costs, Liberum said it suspected some of the loss may also have been due to slower growth in higher-margin, media-buying revenues in North America.

Lévy continued: "Boosting our margin remains a priority, and in the second half we'll be harvesting the first results of that goal. Our financial situation gives us some leeway to achieve our ambitious goals, although we will continue to be very attentive to the world economy, which is showing some signs of fragility.

"2011 should confirm our goal of higher-than-market growth and improved margins."