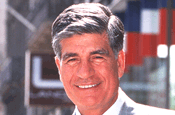 The company's revenue was down to €1,105 million during the period from €1,122 million in the same quarter of 2007.

However, the company said adjusting the figures to take into account the drop in the values of the pound and dollar showed organic growth of 3.9 per cent globally.

Publicis Group chairman and chief executive Maurice Lévy said: "The third quarter ended with higher organic growth than we expected, and finished better than we might have feared, given the turmoil in the worldwide financial system."

In Europe, the organic growth was up 0.9 per cent over the same period last year, although unadjusted revenue dropped from €418 million to €411 million during the period.
However, Lévy predicted the ad industry would slow down during 2009.

He said that the group would be partially protected by its investment in digital and emerging markets, both of which he predicted would grow next year.

According to the results, the company has suffered a loss of €250 million so far this year due to the drop in value of the pound and dollar.