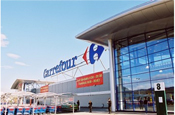 The business, said to be worth more than one billion euros, includes all the group's advertising both in France and internationally.

The assignment, made without a pitch, ends the previous arrangement under which Carrefour worked with a number of shops with Euro RSCG as its lead agency.

Publicis is planning to establish a dedicated unit to run the Carrefour accoun, which it previously handled until five years ago.

Carrefour, France's second-largest advertiser behind Renault, operates hypermarkets, supermarkets, discount and convenience stores. It has more than 15,000 outlets either company operated or franchises.

The group has a presence in 30 countries across Europe, Latin America and Asia, and derives more than half of its turnover from outside France.

It is also looking to expand its presence in other large markets including China, Brazil, Indonesia, Poland and Turkey.