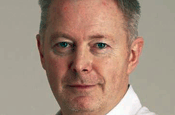 The trading arm will bring together the combined £1.2 billion UK trading power of Starcom MediaVest Group and ZenithOptimedia.

It will be led by Locke, currently group trading director at Starcom, and will also handle digital negotiations for Publicis' Digitas operation when required.

Chris Hayward, investment director at ZenithOptimedia, will work alongside Locke as managing partner of VivaKi UK Media Trading, which takes its name from Publicis' recently launched media holding company brand.

VivaKi UK Media Trading will focus solely on trading rather being launched as a media holding company along the lines of WPP's Group M.

It is being launched this week so it is in place ahead of this autumn's TV trading season.

Discussions on launching the venture have been ongoing since March (Campaign, 21 March).

Gerry Boyle, the chief executive of ZenithOptimedia, and Stewart Easterbrook, his counterpart at Starcom MediaVest Group, will sit on the board of the new unit alongside Locke and Hayward, as will Chris Mandale, the chief financial officer of VivaKi EMEA.

Boyle said: "The agencies have always been strong operators in the media market place in their own right, so unlike other group arrangements this is not a case of protecting a weaker sibling.

"The timing of the launch is based on what we see as significant opportunities in the market place next year.

"In Chris Locke and Chris Hayward we have a uniquely complimentary and formidable partnership to help future-proof the group."

Easterbrook added: "As far as our clients and the teams at both agencies are concerned it is a case of business as usual - the difference will lie in what we have to offer the media owner.

"These meetings will begin to happen in the coming months as we explore opportunities for the new trading season"