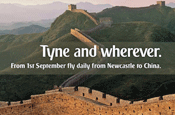 The network, led by the Starcom MediaVest Group, secured the business, which is worth around £9 million
in the UK, following a final shoot-out against the Omnicom-owned OMD.
Aegis Media's Carat and the UK incumbent, the WPP-owned MediaCom, were eliminated from the pitch earlier this week, before the final round of presentations.
The review, which kicked off in December last year, was run out of Dubai and was overseen by the Emirates media manager, Susie Hardie.
The airline previously worked with more than 20 media agencies worldwide, although a large part of the business was shared between MediaCom and OMD.
Publicis Groupe Media will now take on responsibility for all of Emirates' media planning and buying across 80 global markets.
In light of mounting competition from Middle Eastern carriers such as Qatar Air-ways and Etihad Airways, the network's first task will be to plan and buy a campaign that will focus on the airline's two key Asia-Pacific markets, Australia and Japan.
The media strategy is also expected to have a strong digital focus.
The appointment does not affect the creative account, which is handled by Leagas Delaney in the UK.