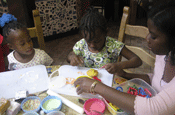 The agency beat Delaney Lund Knox Warren & Partners and Farm in the final pitch, which was handled by COI.

The CWDC was set up to improve the lives of young people, their carers and families by ensuring everyone who works with them has the best possible training, qualifications, support and advice.

The EYPS award is given to graduates who work with children up to the age of five.

The agency will now work closely with Arena BLM to create a campaign aimed at recruiting candidates to the status. The first work will appear in October.

Claire Hamilton, a spokeswoman for the EYPS, said: "Early Years Professionals are already making a difference to the lives of children, but with a 20,000 target by 2015, we want more people to take up the status.

"Publicis provided a robust strategy which engaged audiences with the importance of a child's early years, of which EYPS is a component, and demonstrated our mission to raise standards within childcare generally."