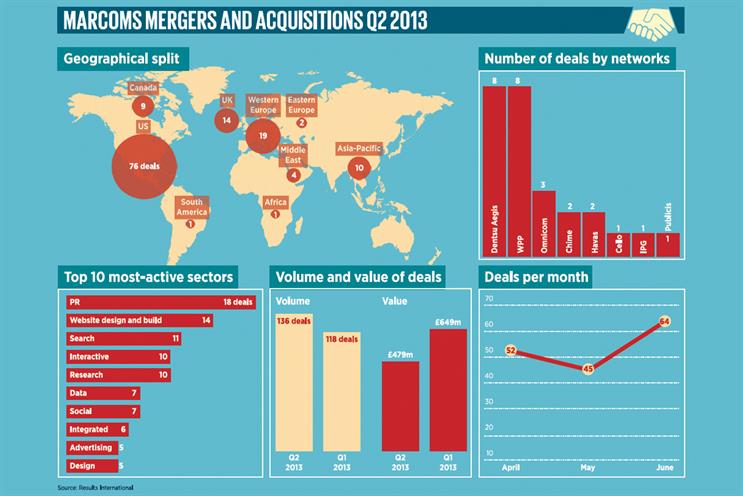 The ink is barely dry on the biggest deal ever recorded in our industry. Overnight, the agency world order has been turned on its head. It will be fascinating to see the integration at play and how the other main holding companies will react.
Our second-quarter analysis of sector deals does not include the Publicis Omnicom behemoth, but the period has been pretty busy nonetheless. Globally, we saw 136 M&A deals, compared with 118 in Q1 and 74 in the same period in 2012. June has been the most active month of the year so far with 64 deals. While the number of transactions was up, the total disclosed deal value was down to £479 million from £649 million in Q1 and £860 million in Q2 of 2012. However, the latter period did include WPP's acquisition of AKQA.
The management consultants signalled their intent to grow their digital and marketing capabilities. Accenture hit the headlines with its acquisition of Fjord. It then swallowed up Acquity Group, the second-largest inde­pendent digital marketing company in the US. In the past 12 months, Deloitte has established a digital operation, designed to compete head-on with agencies. Management consultants are keen to provide clients with holistic solutions and have a shopping list to make this happen.
Another interesting buyer is BlueFocus, a leading Chinese PR company. Its first acquisition in Q2 of the Chinese ad agency Tibet Shannan East Bojie Advertisement Co for £167 million barely registered. Its acquisition of a 19.8 per cent stake in Huntsworth for £36.5 million was quite another matter. We anticipate more activity from Asian buyers in the coming months.
St Ives continues to be an interesting buyer to watch. Its acquisition of Branded3, a leading search business, valued at up to £25 million, was the fourth-largest deal in Q2 and shows how serious it is about gaining market share in the digital agency space. St Ives has strong ambitions to become a powerful marcoms player and we can expect to see it continue to fill out its offering. So far, St Ives has focused on digital and data, but we may now see a move into more traditional areas of the industry.
All bets are off as the industry watches the fallout from the Lévy/Wren love-fest
And who were the most active buyers? In Q2, both WPP and Dentsu Aegis jointly led the pack with eight deals each. Omnicom was next with three deals in both Q2 and Q1. In Q1, WPP set the pace with a total of 13 deals. All bets are off going forward as the industry watches the fallout from the Maurice Lévy/John Wren love-fest.
If you look beyond the big deals that hit the headlines, there is a curious dynamic at play. Ten buyers did just two deals each and a massive 92 buyers did only one deal each. In other words, the buyer landscape is massively fragmented and this shows how important it is to cast the net widely and globally when looking to sell a business.
The most active sector in Q2 was PR with 18 deals, up from 17 in Q1. Website design and build, the leader in Q1 with 20 deals, recorded 14 in Q2. Search remained in third place with 11 deals, up from nine in Q1.
While the number of cross-border deals was stronger in Q2 (49, compared with 41 in Q1), the UK and Asia-Pacific both had a weaker quarter, down from 36 to 14 and 15 to ten respectively. However, we expect both regions to bounce back.
Keith Hunt is the managing partner at Results International