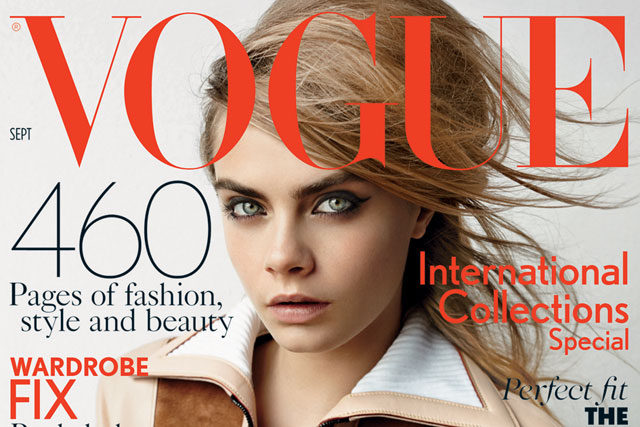 The September issue, out this week, spans 462 pages, including a record 293 pages of advertising from luxury brands wanting to be associated with its fashion shoots. Advertisers range from Gucci to Miu Miu and Christian Dior to Dolce and Gabbana, Chanel and Paul Smith.
Model Cara Delevingne fronts the magazine, wearing new-season Louis Vuitton. The issue also includes Kate Moss, Laura Stone and the couture bra.
It represents the largest number of advertising pages for Vogue since 2008 and the most in the history of the magazine for a September issue.
Advertising revenue is up 7.3% year on year and the magazine is on its way to publishing 1,900 display pages this year, again the highest since 2008.
Stephen Quinn, publishing director of Vogue, said the bumper magazine underlines the power of print at the heart of Vogue.
Pointing to a "solid" circulation of 200,000 and its record ad revenues, 70-year-old Quinn said: "I'm keeping the 24-year-old whipper snappers vying for my job from the door by achieving results they would die for, quite frankly.
"Vogue is doing awesomely well. We've recovered totally in every way from the drama of the economic and banking crisis in 2008."
The September issue is also being supported by print and outdoor ads in the national press and on digital sites including Piccadilly Circus's iconic One Piccadilly site.
The continued success of Vogue comes despite magazines as an industry posting near double-digit declines in both print sales and adspend in 2013.
But Quinn, originally from Kilkenny in Ireland, has no time for those who talk down the future of magazines and recalls an old saying from his home town.
"F*ck the begrudgers," he said. "The glamour, gorgeousness and beauty of Vogue's fashion shoots are seen at their creative, dazzling best in the magazine."
The publisher did add that Vogue continues to develop its brand, with interactive mobile editions set to launch in the autumn. Quinn said it followed the launch of a replica iPad edition of Vogue in December 2010, and a "terribly elegant website", said to attract two million unique users per month, where ad revenue has increased by 50% year on year.
"It's a fantastic business to be involved in," he concluded. "I'm surrounded by beautiful women all day who are also very intelligent."