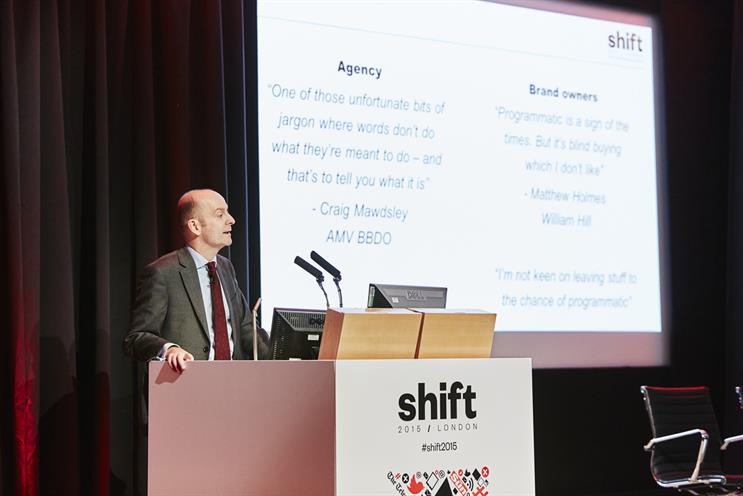 As digital adspend is set to overtake the spend on traditional media for the first time this year, the importance of context and the value of the media environment were timely themes for the Newsworks Shift 2015 conference last month.
Rufus Olins, the chief executive of Newsworks, set the tone by citing the belief of Unilever's chief marketing officer, Keith Weed, that measurement in the digital world is one of the biggest problems that he is wrestling with today.
Olins warned marketers about forgetting some "basic common sense" as programmatic trading continues to gain traction. He said: "Perhaps we need to find a new model that steers the middle way between making the most of the new technologies now available to us without throwing out the human factor."
The value of context was developed by Douglas McCabe, the chief executive of Enders Analysis, who drew on a study with Millward Brown that compared the views of agency and brand owners.
It found that, while there was consensus that programmatic trading will continue to grow, there were notable gaps in perception about the current marketplace. McCabe warned that things viewed as "teething problems" by some are already viewed as "fundamental obstacles" for others.
Brands in the study admitted to being nervous about the lack of transparency around the financial side and around targeted data itself. "As automated trading moves up the value chain, not everyone seems convinced that the tools in the marketplace are yet fit for purpose or even fully understood," he warned.
One fear is that the value of quality media for motivating consumer brand engagement is being underrated as a measure. He stressed that this becomes more of an issue as display adspend increases.
McCabe said the role of chief marketing officer is the most pressurised at board level today, noting they have to "deliver more for less every year" – squeezing both creative and media agencies.
Next on stage was Rory Sutherland, the vice-chairman of Ogilvy & Mather Group UK, who was less diplomatic. He accused marketers of displaying Stockholm Syndrome towards finance officers: "Like people being held hostage, you start to take on the worst qualities of your abuser."
For him, the value of reach has become overly dominant. Drawing on his 25 years in advertising, Sutherland said: "Who you sell to is probably less important, certainly in demographic terms, than the moments at which people are prepared to do something."
Highlighting the value of "instinctive signals" that are not accounted for, he used the analogy of the use of engagement rings in society. They are a commitment device, "an up-front expense that is proof of long-term intentions", he said, and suggested advertising can work in the same way.
Everyone assumes that digital must be better than print because you can get the same message to people at a lower price, he said: "But what if advertising works like an engagement ring, because it is perceived to be expensive?"
He also proposed another reason why advertising works is because it is a promise made, like a wedding, in front of lots people. He said instinctively we understand this "costly signal" but it is not accounted for by the CMO under pressure to prove effective reach.
He ended with the omninous warning: "If I am right, there are some pretty terrible decisions being made in the media industry."
Read my comments on some of the tensions swirling around Newsworks 2015 here